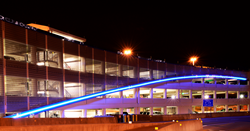 "We wanted the mesh to be seen, and the large-scale mesh that Cambridge provided was visible from a distance, meeting our design intent." --Alan Richards, AIA, Corgan Associates, Inc.
Cambridge, Maryland (PRWEB) November 12, 2014
Forty years after its celebrated opening, Dallas Fort Worth International (DFW) – the world's third busiest airport – continues to undergo a Terminal Renewal and Improvement Program. One program that is occurring concurrently is the addition of a new Terminal A Enhanced Parking Structure. The 7,700-space parkade adjacent to Terminal A is enveloped in a brilliant pattern of two stainless steel metal mesh fabrics woven by Cambridge Architectural.
The unique combination of Cambridge's Pellican and Scale patterns enhances the contemporary features of the new structure used by thousands of American Airlines passengers every day. At night, the mesh's reflective characteristics help to showcase a decorative lighting system that accentuates the structure's curve.
"When we looked at examples of how mesh has been used on the outside of other buildings, we noticed that some of them tend to just disappear," said Alan Richards, AIA, Corgan Associates, Inc. "We wanted the mesh to be seen, and the large-scale mesh that Cambridge provided was visible from a distance, meeting our design intent."
The metal mesh, which lines the structure's exterior screens and is used in interior partitions as well, also contributes to a sustainable design and allows exhaust fumes to easily escape the garage.
"Metal mesh is used quite often these days in garage cladding because of its longevity, durability and minimal maintenance," said Richards. "Cambridge mesh allows for open parking garage classification of more than 50 percent open area while also having very large scale mesh that we used on the curved elevation."
Cambridge Architectural's patent-pending Eclipse attachment system was used to fix the metal mesh to the building.
"Elegant stainless steel tubes grip the mesh panels at the top and bottom and tighten it to the required spring tension," said Cambridge Brand Manager Gary Compton. "Intermediate clips were added to long mesh panels for added security."
Cambridge Architectural mesh has been used in numerous other international airport terminal, rental car and parking facility projects, including those at: Fort Lauderdale-Hollywood, Harrisburg, Houston George Bush, McCarran (Las Vegas), Montreal-Pierre Elliott Trudeau and Winnipeg James Armstrong Richardson airports.
Project Details:
Design Architect: Corgan Associates, Inc.
Prime Consultant: Jacobs Engineering Group Inc.
Completion Date: Phase I, 2013
Mesh: Pellican and Scale
Attachment System: Eclipse
About Cambridge Architectural
Cambridge Architectural, a division of Cambridge International, is the most experienced full-service provider of sustainable architectural mesh systems for both interior and exterior building applications. As the world leader in tensioned mesh systems, Cambridge Architectural metal fabric solutions lend unique aesthetic appeal, functionality, affordability and sustainable benefits to a variety of structures interior and exterior. Cambridge Architectural offers full system design, engineering and collaboration from concept through installation – in the most challenging building environments and under the strictest budgets. Cambridge Architectural metal fabric systems are categorized by the primary applications they serve, including parking structures, exterior shades, facades, canopies, curtains and others. As a member of the United States Green Building Council, Cambridge Architectural is committed to promoting methods, technology and products resulting in environmentally responsible and healthy buildings. The Cambridge Architectural team develops systems that meet or exceed LEED requirements and provides consultation and direction on a project-by-project basis. Visit http://www.CambridgeArchitectural.com for more information.