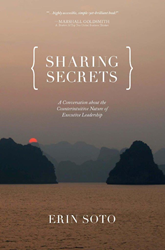 "We are still not getting it right! Studies show that 40% of new and first time executives are failing or quitting within their first 18 months.
Arlington, VA (PRWEB) November 17, 2014
Erin Soto, a proven leader, executive coach and organizational development expert, released her new book, Sharing Secrets, this week. With more than 30 years of experience leading around the globe, Soto says she had a simple reason for writing "Sharing Secrets."
"We are still not getting it right," says Soto. "Studies show that 40% of new and first time executives are failing or quitting within their first 18 months. With Sharing Secrets, I'm bringing an up-close and personal look at some of the secrets to successful leadership."
Soto's book is geared towards first time executives, aspiring executives, and current executives striving to improve performance. "It's important to recognize that the job of the executive is fundamentally different than leading at other levels. It follows that the tools and techniques for success at the executive level are not the same as at other leadership levels," says Soto. "Yet executives are mostly expected to 'learn on the job' and because there's a hesitancy of executives to admit mistakes, discuss errors, or acknowledge fears, the next generation of leaders has no way of learning 'best practices' for executive leadership which leaves them under prepared to succeed.
Pre-publication praise has been ample. Among them, Marshall Goldsmith, a Thinkers 50 Top Ten Global Business Thinker and top ranked executive coach, who says: "For the first time, this book synthesizes three critical areas successful leaders must master. Erin Soto gets you up to speed in all three areas in this highly accessible, simple-yet-brilliant book. I recommend Sharing Secrets to any new leader, or any leader wanting to make a new start."
There are three main types of secrets explained by Soto. The first is experience-based secrets, which are approaches and procedures that have stood the test of time and are still effective. Soto covers the full complement of traditional approaches to executive leadership and shows how these secrets can augment your framework for leading.
The second type of secrets are what Soto calls counterintuitive, which are less obvious, harder to learn, and difficult to teach or convey. Some never fully understand these secrets, which, Soto believes, accounts in large part for the high rate of failure among new executives.
The third type of secrets are personal secrets which are past events or traits that are typically hidden from public view out of fear. And Soto says these types of secrets can profoundly handicap leadership. "This goes beyond just publicly acknowledging mistakes made as a leader," she says. "They include knowing oneself, dealing with fears, and sharing the personal secrets that that hold you back from expressing your authentic self and achieving your full leadership potential."
Soto says that this type of vulnerability is not often viewed as a positive trait; indeed, vulnerability is often seen as a weakness. But Soto suggests that this vulnerability contributes to a humility that naturally attracts others, and makes the leader more appealing and more relatable. "You become a leader who people choose to follow," she says.
Vulnerability also is key to building trust, Soto believes. Trust is the foundation of everything an executive leader does—from communication, to change management, to attracting and retaining top talent.
Soto suggests that 5% of time every work day should be focused on relaxing and focusing on oneself. Although counterintuitive in organizations where the number of hours worked is a badge of honor, Soto points to neuroscience to suggest another approach. "Relaxation helps clarity of thought while exposure to stress causes the rapid loss of cognitive abilities. Taking time for yourself and relaxing actually allows better decision making and the generation of ideas."
To purchase Sharing Secrets, visit amazon.com. Additional information including a sample chapter, praise, and bulk purchase offers can be found by visiting Erin's website.
Erin Soto is a seasoned executive with more than 30 years of experience leading around the globe. She has dedicated her life to public service including working for the US Agency for International Development (USAID). She has lived and worked in Latin America, Africa, and Asia and has served as a member of the Senior Foreign Service and as an assistant professor at the prestigious National Defense University.
Through her business, TLC Solutions, Erin offers expert assistance in organizational development and executive coaching as an ICF-certified executive coach.