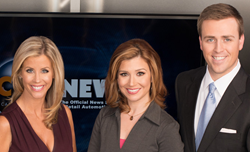 Atlanta, Ga (PRWEB) November 11, 2014
CBT Automotive Network(formerly CBT News) announced today that Danielle Banks will join the news organization as co-anchor and reporter for its daily newscast, CBT News.
Before joining CBT Automotive Network, Banks was with The Weather Channel for more than eight years working as an on-air personality for many departments including television, radio and for weather.com. "I'm very excited to be part of the Car Biz Today team because, while I love geeking out over weather, I'm also a storyteller at heart and I think there are a lot of interesting ones out there in the automotive industry," she said. "Plus, it's an ever evolving industry that has dealers constantly looking for a way to run their dealerships more successfully. CBT News is the perfect venue for dealers to share their experiences and keep up with cutting-edge information at the same time. I am happy to bring my journalism and broadcast experience to the industry and to report on stories that matter to the dealers."
Banks, a native of Virginia, graduated from Radford University with a bachelor's degree in media studies, and Mississippi State's broadcast meteorology program.
###
About CBT Automotive Network
CBT Automotive Network is an online news source dedicated to providing the retail automotive industry with news, information, trends, sales and management training and industry event coverage through various forms of multi-media journalism. The online news source has more than 90,000 subscribers made up of new car dealers and their personnel. CBT Automotive Network is headquartered in Atlanta, Ga.
Contact:
Carol White
cwhite(at)cbtnews(dot)com
678-221-2955
CBTNews.com