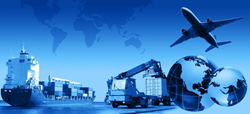 We are pleased to be part of a league that represents all modes in the transportation industry and advocates its development in our nation.
Atlanta, GA (PRWEB) November 12, 2014
DDC FPO, world leader in freight business process outsourcing and division of The DDC Group, has announced its upcoming participation in the National Industrial Transportation League (NITL) conference and TransComp Exhibition on Nov., 15-19, 2014 in Ft. Lauderdale, Fla., with live demonstrations from the exhibit floor and renewing its annual support for the League.
Held in conjunction with the National Industrial Transportation League (NITL) Conference & 107th Annual Meeting, the TransComp Exhibition is its own event in which companies will showcase the latest and greatest in IT applications and management tools for transportation & distribution operations.
Following the launch of its newest back office solution, iCapture for Freight Billing, at the American Trucking Associations Management Conference and Exhibition, the DDC team is set to present live demonstrations of the solution, and showcase how the intelligent technology works, throughout the TransComp exhibition, at booth #535.
Chad Crotty, vice president, sales, was quoted in a recent press conference stating, "The freight billing process has long been a manual process prone to error," adding that, "iCapture will eliminate up to 90 percent of the key strokes of a manual process."
Over the last 20 years, the NITL conference has become the industry's most respected, not only providing conference attendees with the opportunity to participate in educational sessions and seminars, but also the chance to connect with the nation's top decision makers in transportation.
DDC FPO is a committed annual sponsor of the National Industrial Transportation League and honored to be featured among like-minded companies working to advance the industry's future through the use of technology.
"We are pleased to be part of a league that represents all modes in the transportation industry and advocates its development in our nation," states DDC FPO President Art Zipkin. He adds that, "It's through our partnership with NITL that we are dedicated to help freight companies be better prepared to tackle current and future challenges."
To connect with DDC on-site, or to learn more about our customizable tech-enabled solutions for motor carriers, including freight rate auditing, please contact Chad Crotty, VP Sales | m: 720-979-8287 | e: ccrotty(at)datacapture(dot)com
About NITL
The NITL Annual Conference and TransComp Exhibition is the nation's leading multi-modal freight transportation event. The League is the oldest and largest trade association representing freight transportation professionals using all modes to move both domestic and international commerce. Its mission is to advance the views of shippers on freight transportation issues and enhance their professional development.
About DDC FPO
DDC FPO is a division of The DDC Group, a worldwide network of BPO experts and solutions. With operations across North America, Europe and Asia-Pacific, DDC's 3,500-strong staff delivers services in over 20 languages with ahead-of-the-curve industry standards. DDC FPO's customized solutions currently process 20% of all LTL bills in the United States and equip each DDC client with long-term cost containment and profitability. For more information, visit:http://www.ddcfpo.com.
Media Contact:
Madison Jordan
mjordan(at)datacapture(dot)com
770-644-7243