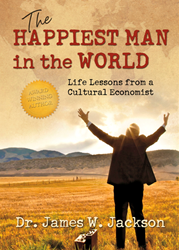 The best business trade I ever made was to exchange what I could not keep for what I could not lose. --Dr. Jackson
Evergreen, Colorado (PRWEB) November 28, 2014
Written and narrated by award winning author Dr. James W. Jackson, Brook Forest Voices releases the "The Happiest Man In the World: Life Lessons From a Cultural Economist" audiobook, a compelling account of how and why Project C.U.R.E. came to be.
Raised in the Boise Valley of Idaho by his mother Josie and the Reverend Richard W. Jackson, Dr. Jackson exceeded his goal of being a millionaire by the age of 30, but realized that he wasn't happy. Prompted by this realization, James and his wife, AnnaMarie, decided to give away their wealth and start over. In "The Happiest Man in the World," James describes the dark side of making money and self-centered accumulation, and how, after divesting himself of his wealth because of his acumen as a cultural economist, he was able to secure consultation and speaking engagements with government leaders around the world. This ultimately opened his eyes to the poverty and desperation of health care in developing countries leading to his founding of Project C.U.R.E., the international humanitarian organization which has delivered donated medical supplies and equipment to over 120 developing countries health care facilities.
"The Happiest Man in the World" will be released November 29th, and will be available on-line through Brook Forest Voices' Audiobook Store and through your favorite online retailer. This is Dr. Jackson's third audiobook produced and published by Brook Forest Voices.
About Brook Forest Voices: a complete audio production studio located just west of Denver in Evergreen, CO, specializing in audiobook narration, production and publishing. BFV is designed to help large and small publishers, as well as authors, with all their audio needs. Publishers and authors wanting to learn more can visit http://www.brookforestvoices.com or contact Jaime Andrade, BFV Business Manager at 303-670-4145.