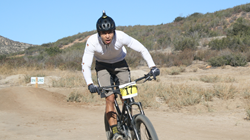 Temecula, CA (PRWEB) November 13, 2014
The SoCal Enduro Race event team prepped one hell of a racing format for the mountain biking renegade riders competing in the three-course race at Vail Mountain. Among the select few competitors intense enough to ride the trails of Temecula County, the five riders of Team Better Buzz able to race this event gathered in angst, ready to ride. Team riders Chris Powell, Kyle Doyle, Mike Owen, Jason Howard, and Team Better Buzz sponsored rider Nick Nestroph paced steadily on their bikes getting warm and ready to smoke the opposing peddlers.
Also in the thick of the event was team sponsor Better Buzz Coffee equipped with tables of complimentary coffee for all riders to enjoy. Brewed special for this Enduro Mountain Biking Event was a pot full of Better Buzz Coffee's special enduro coffee blend. Crafted in honor and in the image of one of Team Better Buzz's finest riders, this "Flow Roast" medium blend was a hit amongst riders from every race team. Better Buzz Coffee also cleverly prepped and served their signature cold brew coffee and served it to riders and their families over a cup of ice that was perfect for the hot afternoon.
Each Team Better rider had phenomenal runs on courses one through three. Working through several brutal crashes of other riders and staying strong both mentally and physically, each Team Better Buzz rider finish strong earning all of them a place on the box and a metal worth bragging about. Team rider Chris Powell clenched 2nd in Men's Pro-Class while team sponsored rider Nick Nestroph claimed 1st overall in Men's Expert-Class. Team rider Kyle Doyle took 3rd in Men's Sport but managed to own the box and bring home 1st in the Men's Sport Series giving him serious bragging rights. Jason Howard had an excellent race earning him 3rd in Men's Experts while Mike Owen had one of his best rides of his season placing 1st overall in Masters 49+ and 2nd in the series.