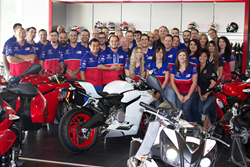 Out of the thousands of powersports dealers in North America, only the very best make the Power 50 list.
Scottsdale, AZ (PRWEB) November 13, 2014
Go AZ Motorcycles and Harley-Davidson of Scottsdale have been named top Power 50 dealers by Powersports Business, the leading trade publication for the powersports industry. Ranked number one overall for a second consecutive year, Go AZ Motorcycles set itself apart in the competition by highlighting the dealership's unmatched focus on customer service, attention to detail and employee engagement. As a result, Powersports Business also announced Go AZ Motorcycles as the inaugural member of the Power 50 Hall of Fame.
"Out of the thousands of powersports dealers in North America, only the very best make the Power 50 list," said Powersports Business Editor in Chief Dave McMahon. "These companies are the elite of the powersports industry, excelling at all aspects of their business. The Top 5 dealers set the standards that are admired by their industry peers."
The Power 50 is an annual list of dealerships that are unsurpassed in business operations, professionalism, marketing tactics, customer service and more. This year marked the 2nd annual Powersports Business Power 50 program.
"Being recognized by Powersports Business as North America's number one dealer for a second consecutive year is a tremendous honor," said Gina Marra, vice president of the Powersports Division at YAM Worldwide. "I wholeheartedly believe that this year's award reflects the incredible efforts by our entire team, at both dealerships, to take advantage of every moment of truth to grow and better our business for our customers."
About Go AZ Motorcycles & Harley-Davidson® of Scottsdale
Founded and owned by Bob Parsons, Go AZ Motorcycles, Harley-Davidson® of Scottsdale and Spooky Fast Custom Finishings are passionate about motorcycles, the people who ride them and the community in which they ride. One of the largest motor sports dealerships in the country, Go AZ Motorcycles represents the best brands in the world – BMW, Ducati, Honda, Kawasaki, KTM, Triumph, Vespa, Ural and Aprilia. Harley-Davidson® of Scottsdale offers the latest in bikes, parts, products and rentals. Based in Scottsdale, Arizona the dealerships' 14 acre campus also features a demonstration and training facility and the country's only advanced motorcycle simulators.
About YAM Worldwide, Inc.
YAM Worldwide is based in Scottsdale, Arizona. Privately held since its formation, the company employs more than 250 Arizonans and 50 Mississippians. The company is home to the business ventures of Bob Parsons, best-known as the founder and executive chairman of GoDaddy, in the fields of powersports, golf, real estate, marketing, innovation and philanthropy.
Core businesses include LZ Delta, L.L.C. which owns Harley-Davidson of Scottsdale, Go AZ Motorcycles and Spooky Fast Custom Finishing; MS LZ Delta, L.L.C which owns Southern Thunder Harley-Davidson and alternate retail outlets Graceland Harley-Davidson and Blues City Harley-Davidson; Scottsdale National Golf Club; Martz Parsons; YAM Capital; YAM Properties; and The Bob & Renee Parsons Foundation.