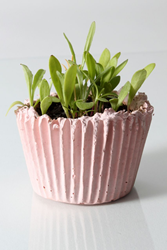 Each NativeCast planter kit caters to DIY-ers of all ages.
Philadelphia, PA (PRWEB) November 13, 2014
NativeCast has the perfect gift for anyone looking for a "green" way to spread holiday cheer this season.
A DIY planter kit from NativeCast's "Cast Your Own" line or hanging planter from the "Pocket Planter" collection is the ideal eco-friendly present for gardeners, kids or pet lovers on any shopping list.
Each NativeCast planter kit caters to DIY-ers of all ages. The large selection of shapes, combined with a variety of seed choices, allows gift givers to completely personalize kits for anyone on their holiday list.
Every kit is unique – right down to the eco-friendly containers. DIY Planters are made using sustainable, recycled concrete sourced from seashells, pine cones and pine needles found in the United States.
Containers from the "Pocket Planter" line offer the perfect accessory for those interested in creating a portable garden. Made from upcycled denim and concrete coated cypress planks, these planters can be used both indoors and outdoors.
For the Garden Enthusiast…
The Hypertufa Hex DIY Kit is the newest addition to NativeCast's "Cast Your Own" line. Materials like eco-concrete vermiculite and peat moss take this new DIY planter to the next level. Together, hypertufa mimics the texture, drainage and color of rock without any of the weight or fragility.
No more fiddling with ratios of ingredients. Everything needed to create a tabletop hypertufa planter is included in the kit.
Those looking for a container with universal use will love the 1, 2 or 3 pocket vertical hanging planters from NativeCast's "Pocket Planter" line. Plants, which sit in the pockets of recycled jean and hang from durable sisal twine, are easily removable for soaking or watering. The stylish container, available in four sizes, makes for the perfect accent piece inside and can withstand the elements outdoors.
For the Artsy Kid or Teen…
Creative kids will love to build any planter from NativeCast's "Cast Your Own" line. Shapes like the circle or square are easy to construct, so this simple project makes for the perfect snow day or weekend activity. Children can build one on their own or work together with a parent.
Teens will also adore this gift. Fun shapes like the cupcake offer an inexpensive and quick way to add color, plants and flair to any bedroom or dorm room.
For the Pet Lover….
These kits will impress more than craft enthusiasts - they're also a cat lover's dream.
Plant catnip or cat grass seeds in the Pet Cupcake Garden or heart-shaped containers and watch the love for a furry feline friend grow over the holidays. The planter's eco-concrete mix is also safe for pets.
"Cast Your Own" kits range from $7.50 - $50.00 and the "Pocket Planter" Collection ranges from $15.00 - $40.00. For more inspiration, visit NativeCast.com.
NativeCast began creating garden containers that marry high art and functional design in 2010. Each NativeCast piece is conceived, created and individually hand cast by founder, Ricky Giacco. All of NativeCast's sleek, sustainable planters are made with light-weight, green concrete and natural materials, like sand, shells, and pine needles. To purchase DIY kits or other hand-cast containers, visit http://www.nativecast.com, like them on Facebook or follow them on Pinterest.