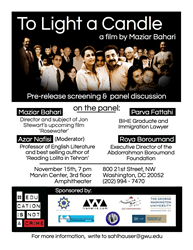 Students and teachers face enormous obstacles: classes are held in people's homes and the threat of arrest is part of everyday life.
Washington, D.C. (PRWEB) November 12, 2014
On November 15, journalist and filmmaker Maziar Bahari's new documentary film, To Light a Candle, will be screened at the George Washington University (GW) in the 3rd floor Amphitheatre of the Marvin Center at 7 pm.
Through compelling interviews, personal stories and dramatic archival footage – often smuggled out of Iran at great personal risk – To Light a Candle provides a powerful account of the story of Iran's Baha'i community, a religious minority that has overcome severe persecution to build solidarity, fortitude and hope among its people through its passion for education.
Since the Islamic Revolution of 1979, the Baha'i community has been the target of systematic state-sponsored repression. Forbidden from attending or teaching at universities, the community established the Baha'i Institute for Higher Education (BIHE) in 1987. Through BIHE, the community has championed equality and non-violence and garnered support from educators around the world to further its aim. Yet, its students and teachers face enormous obstacles: classes are held in people's homes and the threat of arrest is part of everyday life.
The film exposes the intolerance and egregious human rights violations of Iran's government, while also shining a light on the resilience of the Baha'i community in its quest to educate and empower itself. To Light a Candle is a testament not only to the spirt and determination of the Baha'is of Iran, but also to the vital role of education in building communities and sustaining hope.
The screening will be held at 7 p.m. on the 3rd floor of GW's Marvin Center, 800 21st Street, NW, Washington, DC 20052.
There screening will be followed by a panel discussion moderated by Azar Nafisi, Professor of English Literature and bestselling author of Reading Lolita in Tehran, and featuring:

Maziar Bahari, Director and subject of Jon Stewart's upcoming film Rosewater
Parva Fattahi, BIHE graduate and immigration lawyer
Roya Boroumand, Executive Director of the Abdorrahman Boroumand Foundation
In conjunction with To Light a Candle, a new campaign, entitled "Education Is Not a Crime," is being prepared for a global launch culminating in an international "Education is Not a Crime Day" on February 22, 2015. The campaign website, educationisnotacrime.me, will feature voices of support from citizens around the world, and will tell a comprehensive story of the Baha'is in Iran, from the 19th century until today, focusing on persecution under the Islamic Republic and the emergence of BIHE.
For additional information, please contact the U.S. Baha'i Office of Public Affairs at (202) 833-8990