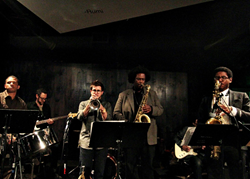 Los Angeles, CA (PRWEB) November 12, 2014
Enjoy free weekly concerts featuring bands and singer-songwriters performing original music at FIGat7th Holiday Sessions. The weekly concerts kick-off on Friday, December 5th with the soulful sounds of USC alumna Raquel Rodriguez. Other headliners include Ethio Cali on December 12th and Subsuelo closing out the series December 19th. Several FIGat7th TASTE restaurants will feature an all night happy hour with food and drink specials.
FIGat7th is becoming one of the best places to experience free live music in downtown
Los Angeles and is conveniently located across the street from a major Metro stop. After its critically acclaimed debut in 2013, Arts Brookfield presented the FIGat7th Downtown Festival again for a second year to capacity crowds this past summer. Looking to extend such music experiences to Angelenos throughout the year, Arts Brookfield presents FIGat7th Holiday Sessions and will continue to present more music events in 2015.
Since 2008, Arts Brookfield has been a leader in the downtown LA art scene. Music and art fans in LA look forward to presentations of world-class cultural experiences and free signature outdoor music events at Brookfield's premier downtown properties. From music, theater and dance to film screenings and art exhibitions, Arts Brookfield brings public spaces to life through art.
Brookfield's highly successful 330,000-square-foot retail and dining destination, continues to announce and open the city's most sought-after fashion retailers and chef-driven dining options in the region. FIGat7th Holiday Sessions is one of the only concert experiences in Los Angeles where music lovers can dine, drink and shop in one location. To learn more about this music series and other Arts Brookfield programs, visit http://www.ArtsBrookfield.com.
The FIGat7th Holiday Sessions Schedule:
DECEMBER 5 – RAQUEL RODRIGUEZ
Los Angeles singer Raquel Rodriguez and her band play soul how it was always meant to be
played. Their 2013 full-length debut Miss Me boasts a collection of impassioned, invigorating, and
irresistible songs that are as fresh as they are fiery. Raquel's song "Already Beat" is in the season
6 premiere of FX's hit show, Sons of Anarchy.
DECEMBER 12 – ETHIO CALI
Ethio Cali is a Los Angeles-based Ethio-Jazz ensemble who's sublime sound is inspired by the golden age of Ethiopian music of the 1960s and 70s, filtered through a lens that is uniquely Los Angeles. Acknowledging the diverse musical foundations of Ethio-Jazz, the ensemble also draws inspiration from the rhythmic and melodic textures of Sudan, Somalia, Ghana, and Colombia.
DECEMBER 19 – SUBSUELO
LA Weekly calls Subsuelo the "Best Party in East LA … part hip-hop scene, part cumbia club" and URB Magazine describes it as "the melting pot between cumbia, electro, tropical funk, moombahton, trap, hip hop, and all points in between." Renowned Flamenco dancer La Tigresa is accompanied by a blend of traditional Spanish guitar and modern beats to bring you the unique LA sound of Subsuelo.
About Arts Brookfield:
Arts Brookfield presents exciting, world-class cultural experiences to thousands of people for free each year in both indoor and outdoor public spaces at Brookfield Office Properties' premier buildings in New York, Los Angeles, Denver, Houston, Toronto, Perth and Sydney. From concerts, theater, and dance to film screenings and art exhibitions, Arts Brookfield brings public spaces to life through art. Visit http://www.ArtsBrookfield.com for event schedules in all 7 cities.
Americans for the Arts has named Brookfield one of the ten Best Businesses Partnering with the Arts in America.
# # #
Handles: @ArtsBrookfield, @FIGat7th, @EthioCaliEns, @RQLROD, @SubsueloCrew
Hashtag: #FIGat7thHoliday