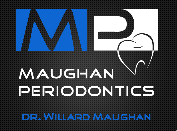 Brigham City, UT (PRWEB) November 11, 2014
Dr. Willard W. Maughan is pleased to announce that Brigham City residents can now receive laser gum surgery from his Pleasant View practice. The LANAP® protocol is a successful laser assisted gum disease treatment that can help reduce gum disease symptoms in Brigham City, UT residents. Patients who receive the LANAP® protocol are more likely to report a quick and minimally painful recovery time compared with patients who receive traditional gum disease treatments.
Gum disease symptoms affect Brigham City, UT residents in a variety of ways, including swollen gums that bleed easily while brushing, chronic bad breath, tooth discomfort, abscesses in the gums, gum recession, and lost teeth. Millions of Americans suffer from these symptoms, but many of them are wary about receiving treatment, because traditional treatment options have a reputation of being uncomfortable. Traditional gum disease treatment options usually require a periodontal professional to locate the diseased tissue and remove it with the use of a scalpel. Because the technology involved is not very precise, bits of healthy gum tissue are often removed during the process, and the recovery time can be quite lengthy and painful.
Thanks to advancements in medical technology, patients with gum disease symptoms can now receive a highly effective and minimally painful type of laser gum surgery called the LANAP® protocol. It is often much more uncomfortable to live with the symptoms of progressing gum disease than it is to receive the LANAP® protocol treatment option. During the LANAP® protocol, an FDA cleared laser is carefully guided to the affected area for treatment. The laser is capable of targeting diseased gum tissue and removing it with precision. The precise nature of the laser ensures that patients get to keep as much of their healthy gum tissue as possible while inflamed gum tissue is effectively removed.
Residents with gum disease symptoms in Brigham City, UT are encouraged to learn more about the laser gum surgery option offered by Dr. Maughan with Maughan Periodontics by contacting his office for a consulation. Although the technology behind the LANAP® protocol is fairly new, it has been well researched and has had a high degree of success treating gum disease symptoms accurately and with little discomfort to gum disease patients.
About The Practice
Maughan Periodontics is a periodontal practice that has offered personalized dental care for patients in the Pleasant View and Logan, UT areas for over 5 years. Dr. Willard W. Maughan attended Weber State University and Virginia Commonwealth University, where he graduated second in his class. In addition, Dr. Maughan was awarded the PD Miller Sr. Scholarship for Excellence in Periodontics, before earning a Masters of Science Degree in Dentistry and a certificate in Periodontics at Virginia Commonwealth University. Dr. Maughan is also a Diplomate with the American Board of Periodontology, and belongs to the one percent of dental professionals currently providing the LANAP® protocol, the first FDA-cleared laser procedure for gum disease and periodontal treatment. To learn more about Maughan Periodontics and their dental services, visit their website at http://www.maughanperio.com/ or call (801) 528-7375.