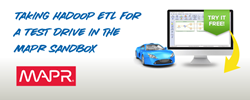 WOODCLIFF LAKE, N.J. (PRWEB) November 12, 2014
Syncsort, a global leader in Big Data software, and MapR Technologies, provider of the top-ranked distribution for Apache™ Hadoop®, today announced that they are extending partnership by providing an easy way to conduct proof of concepts (POCs) to experience both the MapR Distribution including Hadoop and Syncsort's enterprise-grade data ingestion, processing and distribution capabilities.
The two companies announced a partnership in June, geared to enable mission-critical data and processing to be offloaded from legacy systems into a secure, enterprise-ready Hadoop platform, driving savings without compromising reliability or functionality. Syncsort has combined its Test Drive with the MapR Sandbox to provide organizations with a simple, cost-effective way to experience the benefits of Hadoop.
"Our joint Hadoop customers are deriving significant value from the MapR-Syncsort combination, including Experian that is increasing processing speed and decreasing delivery time to comScore that processes over a trillion events a month," said Jon Posnik, VP of Business Development. "Offering a combined virtual platform for testing provides companies with an enterprise-class Hadoop environment to solve their ETL challenges."
The MapR Sandbox is a fully functional Hadoop cluster running in a Linux virtual machine which contains everything needed to view, execute and modify data workloads to solve common big data challenges. Syncsort now offers its Test Drive with the MapR Sandbox and DMX-h pre-installed, along with use case accelerators and sample data.
"Customers are looking for a no cost, no fuss way to demonstrate the value of Hadoop", said Bryan Ashley, VP, Business Development, Syncsort. "With the Test Drive, customers can experience the joint MapR and Syncsort value proposition of offloading mission-critical data workloads from existing legacy platforms to the better and more cost effective Hadoop platform."
For more information and to download the Test Drive, click here. For a recent blog by MapR on the Test Drive, click here.
About Syncsort
Syncsort provides fast, secure, enterprise-grade software spanning Big Data solutions in Hadoop to Big Iron on mainframes. We help customers around the world to collect, process and distribute more data in less time, with fewer resources and lower costs. 87 of the Fortune 100 companies are Syncsort customers, and Syncsort's products are used in more than 85 countries to offload expensive and inefficient legacy data workloads, speed data warehouse and mainframe processing, and optimize cloud data integration. Experience Syncsort at http://www.syncsort.com/en/TestDrive.
About MapR Technologies
MapR delivers on the promise of Hadoop with a proven, enterprise-grade platform that supports a broad set of mission-critical and real-time production uses. MapR brings unprecedented dependability, ease-of-use and world-record speed to Hadoop, NoSQL, database and streaming applications in one unified distribution for Hadoop. MapR is used by more than 500 customers across financial services, government, healthcare, manufacturing, media, retail and telecommunications as well as by leading Global 2000 and Web 2.0 companies. Amazon, Cisco, Google and HP are part of the broad MapR partner ecosystem. Investors include Google Capital, Lightspeed Venture Partners, Mayfield Fund, NEA, Qualcomm Ventures and Redpoint Ventures. MapR is based in San Jose, CA. Connect with MapR on Twitter, LinkedIn, and Facebook.
Media Contacts:
Michael Kornspan
Syncsort Incorporated
Director, Corporate Communications
Tel: 201-930-8216
mkornspan@syncsort.com
Brian LoSchiavo
SHIFT Communications
Tel: 617-779-1871
bloschiavo@shiftcomm.com
Beth Winkowski
MapR Technologies, Inc.
(978) 649-7189
bwinkowski@maprtech.com
Nancy Pieretti
MapR Technologies, Inc.
(603) 268-8007
npieretti@maprtech.com