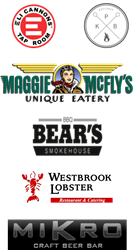 We are excited to be represented on the menus at some of our favorite restaurants across the state.
Middletown, CT (PRWEB) November 13, 2014
Maggie McFly's celebrated the opening of their newest restaurant at Buckland Hills in Manchester with a new menu showcasing its commitment to support local farms and businesses. NoRA Cupcake Company is proud to be a featured local partner.
The new menu at Maggie McFly's, a Connecticut restaurant chain with five locations, features eight signature and seasonal cupcake flavors and gluten-free varieties made fresh from scratch by the creative bakers at NoRA Cupcake Company.
NoRA has cultivated a statewide following by delivering signature sweet treats to venues in the Lil' NoRA Cupcake Truck. From early spring through late fall it is easy to spot the iconic black truck with dancing skeletons at events throughout Connecticut from farmers markets to Rentschler Field to museums to city streets.
But as winter settles in with fewer outdoor events, NoRA fans can satisfy their craving for life on sugar at their favorite Connecticut restaurants including:

Maggie McFly's in Brookfield, Glastonbury, Middlebury, Southbury and Manchester
Krust Pizza and Bourbon Bar in Middletown
Eli Cannon's Tap Room in Middletown
Bear's Smokehouse BBQ in Hartford
Westbrook Lobster in Wallingford
Mikro Beer Bar in Hamden
"Maggie McFly's spent months searching for a local bakery just as unique as our restaurant," said Shelby Lineweber, Sales and Marketing Coordinator. "We feature over 180 menu items in large portions and NoRA Cupcake Co. carries 100+ unique varieties of larger than average cupcakes... it is a match made in heaven. Maggie's is also huge on supporting local businesses and incorporating as many local foods as possible into our menu. We love that NoRA is on the same page and incorporates many farmers' market ingredients and utilizes local breweries when creating locally-inspired cupcakes. We are thrilled to partner with NoRA."
"We are excited to be represented on the menus at some of our favorite restaurants across the state with friends that we have made throughout the years," said Carrie Carella, owner of NoRA Cupcake Company. "Our newest partnership with Maggie McFly's is absolutely thrilling because we're able to be in so many places at once along with many other great local brands."
# # #
About NoRA Cupcake Co.
NoRA is a new generation bakery focused on artistic cupcakes with an emphasis on non-traditional recipes. Their menu features more than 100 flavors, many of which are elaborately decorated and stuffed with unique and unusual fillings. NoRA Cupcake was named by The Daily Meal to the 2014 101 Best Cupcakes in America as well as Best Cupcake in the Best of Hartford Readers' Poll 2013 and 2014. For more info about NoRA Cupcake Company, please contact Mary Ann Dostaler at 860-267-0816 or email at madostaler@madcomm.com.