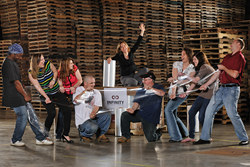 "With the Infinity products, our customers can expect their loads to arrive damage free and intact and at the lowest cost per load." -Kirk Ambrose, GM – Liberty Technologies
Vienna, OH (PRWEB) November 13, 2014
Liberty Technologies, a Millwood company (http://www.millwoodinc.com) and a worldwide industry leader and innovator of unit load and packaging systems, materials and services, is introducing its Infinity family of stretch wrap engineered films. The infinity film comes in three grades– standard, high performance and ultra-high and ultra-high performance; each grade provides a unique advantage, depending on the application.
The Infinity family of engineered films is exclusive to the Millwood sales team and the Liberty Technologies distributor network and will be offered in three grades:
Infinity-S:

General purpose film, priced competitive, chosen for most A & B type loads
The one-side cast film simple and economical solution for most common applications
Clear optics and quiet unwind make this film the top choice for the widest range of applications
With up to 275% pre-stretch, it provides for high levels of strength, puncture resistance and cling
Infinity-HP:

Optimum performance regardless of gauge, for demanding applications
High performance cast film offers proven performance for high stretch, high speed wrapping applications
Excellent for down-gauged or higher stretch applications
Pre-stretched to levels of 250% to 300%, which means minimum film usage while providing maximum load-holding for all A, B & C type loads
Infinity-UHP:

Ultra-high performance cast film provides the highest stretch at the lowest gauge for optimal palletizing for all load profiles
Heavy gauge performance from light gauge film, high cling and slip – the industry's best load containment
Easy unwind assures great machinability on all high speed automatics, overheads and bundling applications. This film offers high elongation, exceptional puncture and tear resistance reducing cost per unit load
One-side cling, up to 300% pre-stretch, cast co-extruded film
"With the Infinity products, our customers can expect their loads to arrive damage free and intact and at the lowest cost per load," says Kirk Ambrose, GM Liberty Technologies. "Liberty Technologies provides films with a cross section of gauges, performance characteristics and price points that allow for the appropriate selection of the proper product for the application."
Infinity Engineered Films have several key benefits over traditional stretch films. They are designed to significantly lower cost per wrapped pallet by providing highest amount of load containment of any other film in the industry.
Infinity Machine Film is optimized to provide maximum load retention on a consistent basis. Infinity Hand Film is available in shorter widths and lengths, making them lighter in weight and easier to use.
Infinity is also available in a variety of specialty films including: pre-stretch and oriented films along with colors, UVI and other additives available in nominal and metric put-up. Other narrow banding and vented films are available for unique applications. Additionally, the Infinity family of films is available for heat applied machine applications.
"Regardless of gauge, film type (cast or blown), machine-type or market segment, 'load containment' is simply the most transparent and quantifiable predictor of pallet wrap success from point A to point B," adds Azaad Shamsi, Product Manager – Engineered Films.