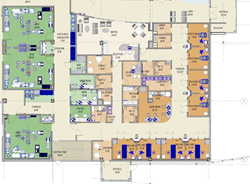 The caliber of speaker at Winter Simulation Conference is very high and well-regarded. I am looking forward to participating with this well-respected group. - Laura Silvoy
Philadelphia, PA (PRWEB) November 18, 2014
Array Architects is proud of a 30-year history providing healthcare planning and design expertise to the nation's hospitals and health systems. It is a niche market that is best served by those dedicating their careers to the advancement of both the healthcare and design industries. As a respected contributor in her respective field, Laura Silvoy has been chosen to share her healthcare systems engineering expertise at the 2014 Winter Simulation Conference.
Laura will present her Process Simulation expertise and demonstrate how simulation exercises for a national surgery center client influenced the client's decisions regarding workflow, bed count and patient recovery best practices. Industrial Engineers traditionally perform detailed facility planning in manufacturing, aviation and other industries. Today, as the healthcare industry looks to provide higher quality and more cost effective care, Industrial and Systems Engineers are playing a more prominent role in this area. One tool that is often used to test new systems without physically changing the current process is simulation. In healthcare facility planning, simulation can be used to determine the impact of different layouts and new workflows before knocking down a single wall, saving valuable time and money.
Recently, an outpatient spinal surgery center decided to extend its services by building satellite facilities in different parts of the country. These new facilities will be smaller than the existing facility and operate using a slightly altered process flow. In order to determine the appropriate space requirements for the new, smaller scale model, a simulation model was built using Arena Simulation software. The model was developed using process time data from the headquarters facility. Two major goals of this project were confirming patients could recover completely in a PACU room, without causing other patients to wait in the operating room, and determining whether the space was large enough to bring in an additional surgeon, potentially leading to the treatment of more patients.
The results of the simulation study lead the author to believe that four PACU rooms are adequate, as long as PRE-OP rooms are used for recovery in the case of a full PACU. Additionally, adding a surgeon negligibly increases time spent waiting for a PACU room, but decreases the average total waiting time when the same quantity of patients is seen. Further research involving optimal patient scheduling, maximum capacity, personnel utilization, and cost analysis can be done using simulation and other operations research tools.
Since 1983, Array Architects has been recognized as one of the nation's leaders in the design of healthcare facilities and offers a full complement of knowledge-based services including planning, architecture, interior design and advisory services from our six office locations. Our devotion to a healthcare-exclusive practice springs from our belief in the power of design to improve patient outcomes, maximize operational efficiencies, increase staff satisfaction and provide remarkable results for our clients.