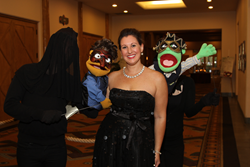 The Foundation and its donors have made so much of what we do possible. Their generosity helped build the Institute and their continued support sustains us and allows us to plan for the future
Surprise, Ariz. (PRWEB) November 12, 2014
More than 300 guests celebrated Italian style at Sun Health Foundation's signature fundraiser, the Healthy SUNsations Gala, whose theme this year was "That's Amore! An Italian Carnevale."
The Nov. 8 celebration, held at Wigwam Arizona in Litchfield Park, featured fire jugglers, stilt walkers and jesters, a gourmet Italian dinner, entertainment by a tenor trio called "The Three Waiters," a live auction and a video highlighting Alzheimer's research at the Banner Sun Health Research Institute (BSHRI), beneficiary of this year's Gala.
Following the video, Marwan Sabbagh, M.D., director of BSHRI and research professor of neurology at The University of Arizona College of Medicine – Phoenix, spoke about the crucial role donors have played in building and sustaining BSHRI's international reputation for groundbreaking research on disorders of aging, including Alzheimer's and Parkinson's disease.
"The Foundation and its donors have made so much of what we do possible. Their generosity helped build the Institute and their continued support sustains us and allows us to plan for the future," Dr. Sabbagh said.
Vice President and Chief Development Officer Penny Cowden spoke of how BSHRI's research dovetails with Sun Health's commitment to "bridge the gap between health care of yesterday and the health and well-being model of tomorrow."
Michael Mandell, chair of the Sun Health Foundation Board of Trustees, echoed Cowden's comments pointing out that BSHRI and Sun Health share a passion "to provide people with the opportunity to live longer, healthier lives."
In fiscal year 2014, Sun Health Foundation donors provided $7.8 million in philanthropic support to health care causes, including more than $1.5 million in support for the Banner Sun Health Research Institute.
Major sponsors for the 2014 Gala included Banner Health, The Weitz Company, Blue Cross Blue Shield of Arizona Advantage, BMO Harris Bank, Ensemble Real Estate Solutions, Northern Trust, Wells Fargo, Bankers Trust, The CORE Institute, CornerStone Partners LLC, Drinker Biddle & Reath, LLP, Ford's World Travel, The Orcutt/Winslow Partnership, Plante Moran, PLLC, Sun City Imaging and S & L Printing & Mailing.
About Sun Health
A long-standing community partner championing healthy living, Sun Health is a community-based health care organization providing pathways to Population Health through philanthropy, senior living, community programs and superior health care.
Learn more at http://www.SunHealth.org.
About Banner Sun Health Research Institute
Since 1986, Banner Sun Health Research Institute, part of nonprofit Banner Health, has been a leader nationally and internationally in the effort to find answers to disorders of aging including Alzheimer's and Parkinson's disease. The institute, together with its Arizona Alzheimer's Consortium partners, has been designated by the National Institutes of Health as one of just 29 Alzheimer's Disease Centers in the nation. The institute's Cleo Roberts Center for Clinical Research takes laboratory discoveries to clinical trials that foster hope for new treatments. Learn more at http://bit.ly/1m3hgNe