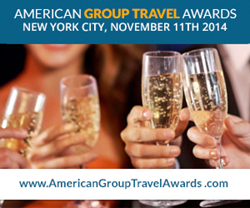 New York, NY (PRWEB) November 12, 2014
HotelPlanner.com in proud partnership with Landor Travel Publications is pleased to announce the winners of the 2014 American Group Travel Awards (AGTA).
The first annual event celebrating the best of the best in group travel was held on November 11th at the Hudson Theatre in the Millennium Broadway Hotel where the winners of each category were announced. 23 awards of excellence were given to the top industry leaders in hotels, airlines, cruise lines, destinations and more, recognizing organizations that provide superior group travel experiences.
Congratulations to the 2014 American Group Travel Award Winners!
Best Group Hotel Brand - Full Service:
Hilton Hotels & Resorts
Best Group Hotel Brand - Limited Service:
Comfort Inn & Suites
Best Group Hotel Brand – Luxury:
Waldorf Astoria Hotels & Resorts
Best Group Hotel Brand – Boutique:
Hotel Indigo
Best Leisure Group Hotel Brand:
Best Western
Best Sports Team Travel Hotel Brand:
Holiday Inn Express
Best Group Casino Hotel – Leisure:
Monte Carlo Las Vegas Resort & Casino
Best Group Casino Hotel – Convention:
The Venetian Las Vegas
Best Airline for Group Travel:
American Airlines
Best Cruise Line for Group Travel:
Carnival Cruise Lines
Best River Cruise for Group Travel:
AmaWaterways
Best Group Travel via Rail:
Amtrak
Best Live Stage Performance for Groups:
The Phantom of the Opera
Best Broadway Show for Groups:
The Phantom of the Opera
Best Theme Park for Groups:
Disney World Florida
Best City Destination for Groups:
New York City
Best Beach Destination for Groups:
Hawaii – Oahu
Best State for Group Travel:
New York
Best Online Travel Agency (OTA) for Group Travel:
Expedia
Best Group Shopping:
Mall of America – Minneapolis
Best Outlet Shopping for Groups:
Sawgrass Mills (Sunrise, FL)
Best Group Ground Transportation:
Super Shuttle
Best Group Dining Experience:
Hard Rock Café
To find out more information about AGTA, please contact Bruce Rosenberg at (818) 661-0244 or via email at Bruce.Rosenberg(at)americangrouptravelawards.com.
About HotelPlanner
HotelPlanner.com provides online services to the global group hotel market. The company's service ensures the lowest rates by allowing customers to receive quotes online directly from hotel group sales managers. The company also provides mobile applications for booking group hotel reservations and owns and operates Meetings.com, a site that provides information and booking services for meeting and banquet venues around the world for corporate and association meeting planners.Founded in 2002, the company has offices in in West Palm Beach, FL (USA Headquarters), Las Vegas, Nevada (Western Regional Office), London, England, (European Headquarter) and in Hong Kong.
About Landor Travel Publications
Landor Travel Publications is the publisher of Group Travel Organiser magazine, the UK's first and leading publication exclusively addressing the needs of group travel organisers. GTO was first published in 1988 and over the past 19 years has brought a wealth of news, information and ideas for group trips to organisers all over Great Britain. The magazine is published ten times a year and mailed to 10,000 individuals, along with numerous supplements on particular countries, regions and subjects of interest to groups.