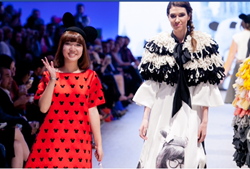 LOS ANGELES (PRWEB) November 13, 2014
Woodbury University's School of Media, Culture & Design (MCD) is creative and eclectic enough for whatever muse students may be following.
This fall, creativity is indeed the common thread linking performance artist Mariel Carranza's live gallery exhibition, the debut of custom gowns designed by students in Woodbury's Fashion Design Department for musicians with the Burbank Philharmonic Orchestra, and a recent Woodbury graduate selected to display her collection during this fall's Vancouver (B.C.) Fashion Week:

"Making Thread" – This exhibit of live, durational performance art runs through November 18 at the Wedge Gallery on the Woodbury University's Los Angeles/Burbank campus. It features Los Angeles-based, Peruvian-born performance artist Mariel Carranza, who examines the abstract concept of the self in real time using everyday objects and ritualized tests of endurance to express her thoughts, emotions and perceptions. Because her work is "in the moment," visitors to the exhibition are encouraged to check the Wedge Gallery website, or call the gallery at (818) 252-5121, for specific performance dates and times. The exhibition is a joint venture between Woodbury's Art History Department and School of Architecture. There is no charge for attendance.
Burbank Philharmonic Orchestra Opening Night Gala – "Fashion With the Phil" kicked off the orchestra's 24th season on Saturday, November 8 at the Ambassador Auditorium in Pasadena. For the second year, students from Woodbury's Fashion Design program worked with the orchestra to design gowns for a number of musicians, including featured violinist Heidi Hatch. Student designers were tasked with creating garments that enhance the music and the visual presentation of it – without hindering the musicians' ability to perform. Both gown designers and the musicians wearing them were feted during intermission. The program was directed by Kathryn Hagen, Fashion Design Department chair, in conjunction with Prof. Karolyn Kiisel, Adjunct Prof. Wayne Kastning, and Creative Director Jared Gold.
Fashion Design Graduate Wins Competition, Debuts Collection – 2014 Woodbury University graduate Lu Liu showed her line of colorful, eclectic fashions to rave reviews during Vancouver Fashion Week in British Columbia, Sept. 15-21. Liu's debut marked the second time a Woodbury senior was selected to display designs free of charge as part of a long-term agreement between Woodbury and Vancouver Fashion Week. Among the other Woodbury seniors who competed for the chance to show their designs: Kate Anderson, Angela Ortiz, Cynthia Arias, Grecia Rodriguez and Sara Mansour. In 2013, Woodbury's Drew Kessler, then a senior, was selected to show his collection, which within one day received 5,000 "Likes" on Facebook.
The School of Media, Culture & Design (MCD) is a thriving dynamic school with the special mission of educating the next generation of creative professionals. MCD is located in Burbank, which is widely known as the media capital of the world. The School's mix of major degree-granting programs covers almost every facet of contemporary culture. Students typically learn directly from faculty who work in the surrounding creative economy. They also benefit from small class sizes, new digital infrastructure, and enriching student life programs.
About Woodbury University
Founded in 1884, Woodbury University is one of the oldest institutions of higher education in Southern California. Woodbury offers bachelor's degrees from the School of Architecture, School of Business, School of Media, Culture & Design, and College of Transdisciplinarity, along with a Master of Arts (MA) in Media for Social Justice, Master of Architecture (MArch), Master of Interior Architecture (MIA), Master of Science in Architecture (MSArch), and Master of Leadership. The San Diego campus offers Bachelor of Architecture and Master of Architecture degrees, as well as an MSArch degree with concentrations in Real Estate Development and Landscape + Urbanism. Woodbury ranks 15th among the nation's "25 Colleges That Add the Most Value," according to Money Magazine. Visit http://www.woodbury.edu for more information.
Media Contact:
Ken Greenberg
Edge Communications, Inc.
(323) 469-3397
ken(at)edgecommunicationsinc(dot)com