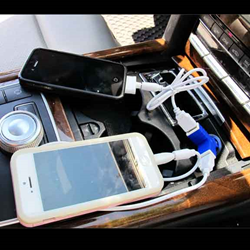 Are you going on vacation and need to use any of your smart phone's battery draining features such as video playback or GPS? SF Cable Dual USB Car Charger is solution.
Hayward, CA (PRWEB) November 20, 2014
SF Cable, a leader in the wholesale distribution of accessories for smart phones and electronics recently launched their Dual USB Car Charger. Personal Digital Assistants are highly popular and according to studies conducted, majority of users encounter problems in charging these systems while traveling. The dual USB charger is capable of charging two devices at the same time in a car.
The official spokesperson of SF Cable said, "We live in a world that is dependent on the use of technology, even during travel. Most of us have more than one smart phone/USB devices present in the car, be it a phone or a tablet and during long trips, having access to a reliable battery source is essential."
The Dual USB Car charger is highly compatible with both Apple and Android devices and its unique Y-design shape allows two devices to charge simultaneously without imposing on each other. The small size and a plastic silicon outer cover ensure that it does not interfere with the gearshift of the car.
Along with the unique design, this system delivers a current of 2.1A resulting in a rapid charging output without compromising any of the two devices being charged. The Dual USB Car Charger is highly compatible with the interior of almost every car using a standard 12V DC connector to charge two 5V USB (Type A-female) powered devices. Available in two attractive colors, black and blue, the Dual USB charger is compatible with MP3 players, cameras, gaming devices, iPod's, etc.
About SF Cable
SF Cable, a company dedicated to designing reliable electronic equipment, offers a vast array of cables and accessories. Established in 2002, this wholesale company deals in environmentally friendly and RoHS compliant solutions. Offering custom solutions at reasonable prices, SF Cable supports all its products with special lifetime warranties.
The product collection of SF Cable features more than 8,000 SKUs of computer cables, home theater systems, laptop accessories, and other networking solutions. SF Cable satisfies its consumers' unique needs with quality merchandise, competitive prices, and quick delivery services.
Contact Details
SF Cable, Inc.
28300 Industrial Boulevard Suite F
Hayward, CA 94545-4439
Tel: 510-264-9988