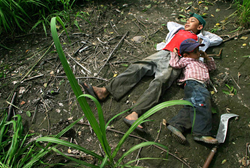 AFT's actions holding Coca-Cola accountable for its practices worldwide will positively impact the lives of countless endangered children and workers. I hope and expect the NEA and the AAUP will take similar action." - Ray Rogers
New York, NY (PRWEB) November 18, 2014
Corporate Campaign, Inc. and the Campaign to Stop Killer Coke announce that the American Federation of Teachers (AFT, AFL-CIO) has declared the banning of all Coca-Cola products from its facilities and events, as an official policy of the union. This policy is being communicated to AFT affiliates and members throughout the nation and is published on the union's website. The resolution states that the AFT will (Click here for full resolution):
"refrain from serving or selling Coca-Cola products at its offices…at any venue for its events, meetings conferences and conventions; and
'recommend to all its affiliates that they not serve or sell Coca-Cola products at their offices and…at venues for their events; and
'encourage them to participate in campaigns to remove Coca-Cola products from their schools, colleges, hospitals and other places in which they work…"
The new policy resulted from passage of a resolution introduced at AFT's 2014 National Convention by Barbara Bowen, AFT Executive Board Member and President of the Professional Staff Congress/CUNY (PSC CUNY represents more than 25,000 faculty and staff at the City University of New York (CUNY) and the CUNY Research Foundation).
The resolution spotlights Coca-Cola's dismal human rights record and long-standing allegations of violence against union leaders in Colombia and Guatemala, documented by, among others, award-winning journalist, Michael Blanding, in The Coke Machine: The Truth Behind the World's Favorite Soft Drink [1] [2]; the continuing allegations of the use of child labor by its sugar processors, as reported by Human Rights Watch and by investigative reporter, Mark Thomas, in the nationally televised documentary Dispatches: Mark Thomas on Coca Cola [3][4]; as well as charges of outsourcing of thousands of jobs to what critics call "poverty-wage contractors."[5]
"You can always count on the American Federation of Teachers to stand up for children, labor and human rights," commented Ray Rogers noted organizer, human rights advocate and director of Corporate Campaign, Inc. and Campaign to Stop Killer Coke.
"AFT's actions to hold The Coca-Cola Company accountable for what we see as its reprehensible practices worldwide, can only have a positive impact on society and the daily lives of countless endangered children and workers, who are now trapped in poverty and despair," Rogers said. "I hope and expect that the National Education Association (NEA) and the American Association of University Professors (AAUP) will take similar action to protect the well-being of children and advance human rights everywhere." Rogers continued, "The AFT's principled action is very significant and follows on the loss of scores of school contracts, and growing numbers of unions banning Coke products. This is a direct result of the Campaign to Stop Killer Coke and is costing the company dearly."
The stated mission of the AFT, whose president is Randi Weingarten, is: "The American Federation of Teachers is a union of professionals that champions fairness; democracy; economic opportunity; and high-quality public education, healthcare and public services for our students, their families and our communities. We are committed to advancing these principles through community engagement, organizing, collective bargaining and political activism, and especially through the work our members do."
About Corporate Campaign Inc. (CCI):
New York City-based Corporate Campaign Inc. (CCI), founded in 1981, has successfully championed labor, human rights and environmental causes using its unique power analysis, innovative strategies and organizational tactics to increase economic and political pressure on companies, their top executives, board members, shareholders, creditors and political allies to hold them accountable and make them behave more responsibly. For more information call
718-852-2808 or email info(at)corporatecampaign(dot)org or go to http://www.corporatecampaign.org/history.php
About Ray Rogers:
Ray Rogers, a noted advocate for labor and human rights, is President and Director of Corporate Campaign, Inc. and founder of the Campaign to Stop Killer Coke. Corporate Campaign was founded in 1981. Rogers pioneered the strategy of the Corporate Campaign that has been used with success by labor unions, human rights advocates and environmental groups in their battles against corporations.
Time magazine said, "Rogers has brought some of the most powerful corporations to their knees and his ideas are spreading." Boston Herald described Rogers as labor's most innovative strategist and "one of the most successful union organizers since the CIO sit-down strikes of the 1930s." Business Week described Rogers as a "legendary union activist." Financial Times called Rogers "The Coca-Cola Company's fiercest foe.
For interviews or speaking engagements call Pat Clark at 718-852-2808 or email info(at)corporatecampaign(dot)org [http://corporatecampaign.org/ray_rogers_bio.php
About Campaign to Stop Killer Coke:
The Campaign to Stop Killer Coke launched in 2003, is a worldwide movement with thousands of volunteers seeking to hold The Coca-Cola System, including the company and its bottlers, accountable for harmful practices that dangerously impact on the lives of workers, the environment and the health and well-being of children worldwide. For more information call 718 852-2808 or go to http://www.killercoke.org.
_________________________________________
[1] Blanding, M. (2010). The Coke Machine: The Truth Behind the World's Favorite Soft Drink. New York, NY: Penguin Group. -
[2] Garcia, C. & Gutierrez, G. "The Coca-Cola Case" award-winning documentary produced by the National Film Board of Canada
[3] Human Rights Watch. (June 2004). El Salvador: Child Labor on Sugar Plantations
[4] Thomas, Mark (Nov 2007) Dispatches: Mark Thomas on Coca Cola Channel 4 Television Corporation (UK)
[5] Thomas, M. (2009). Belching Out the Devil: Global Adventures with Coca-Cola. New York, NY: Nation Books