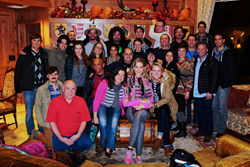 "The field of emergency management is taking leaps and bounds."
Midway, UT (PRWEB) November 12, 2014
Utah Representative Kraig Powell (R) of District 54, welcomed participants at the Field Innovation Team's (FIT) second bi-annual Bootcamp held during November 5-9, 2014, in Midway, UT. Representative Powell spoke to the team about the State's strong economic standing, its support of innovative industry and high philanthropic giving, all of which make Utah a state prepared for disasters. Representative Powell stated about his experience at Bootcamp, "I had a great time today learning about FIT. I can't believe [the] people I met from all over the country. The field of emergency management and disaster preparedness is taking great leaps and bounds. To bring these people here to Midway, Utah, to my own district, and to tell them a little about Utah and for them to tell me about the cutting edge things they are doing is one of the most exciting things I've experienced."
FIT Bootcamp is a bi-annual event bringing together innovators from arts, science, technology, community organizing, social work, and more. The team is packed full of experts including people who operate robots, drones, 3-D printers, and use nanotechnologies. The goal of Bootcamp is to train FIT volunteers on special processes used by the team to rapidly assess disaster-related problems, identify the needs, and prototype solutions. Participants also treat Bootcamp as if deployed to a real disaster, where solutions are tested, reiterated, and redesigned according to user feedback, and are then given over to recipients at no cost. Participants engaged in a realistic disaster simulation exercise designed to apply stress and pressure in a controlled environment. Teams ran an obstacle course and avoided fire pits and injured infectious zombies, had to gather a situational awareness report, and pick up a special object necessary for completing the exercise.
Other highly interactive sessions taught members about additive manufacturing, community organizing, and WiFi communications in disasters. "The disaster scenario at Bootcamp challenged us all to closely collaborate on innovative solutions that would be immediately beneficial in assisting survivors," according to Brad Sweet, a FIT volunteer who develops group collaboration software. "It was exciting to see the ingenuity and resourcefulness of such a diverse and talented group who took the challenge seriously," said Sweet.
FIT is a disaster response and recovery non-profit based in Heber City, UT. FIT deploys teams of experts into disasters and works with first responders and survivors to rapidly prototype and provides solutions that will help the affected populations get back to "normal" as quickly as possible. FIT assembles a unique cadre of volunteers for each disaster. "The FIT team is comprised of thought-leaders in their respective disciplines that are dedicated to innovating real-time with communities world-wide to empower survivors and expedite response efforts," said FIT's "Chief Wrangler" Desi Matel-Anderson.