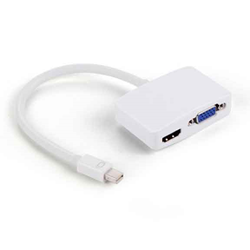 Hayward, CA (PRWEB) November 26, 2014
The Mini Displayport to HDMI and VGA converter is unique in the sense that it allows interface with either VGA or HDMI monitors when usually, these systems are present in separate adapters making this system both unique and efficient in functioning.
At the most recent conference held by SF Cable, a spokesperson announced, "Mac Operating Systems have become one of the most commonly used computer systems used in a household or office." He added, "Usually, accessory devices for these systems are not as easily available, which is why SF Cable has begun the distribution of a highly efficiently functioning 2 in 1 Display Port for HDMI and VGA conversion."
Being easy to use is one of the highlights of this product. Most sets of televisions these days have a compatibility with High Definition Multimedia Interface (HDMI) and VGA interface access. The mini Display port adapter has the ability to synchronize your Mac system with your television without going through complicated connectivity pathways. The fact that this adapter has the chipsets for both a digital and analog signal makes it more appealing as compared to purchasing different adapters for VGA and HDMI interface.
Mirroring or extending the display of a Mac to a projector or a bigger screen along with mirrored interface on the Mac is also easily achievable through this adapter. A display of 1920 x 1200 and high definition television up to 1080p ensures quality.
About SF Cable
SF Cable has been providing high quality and affordable cables, components and accessories for computers and consumer electronics as well as custom products such as fiber optic and copper networking cables, and modular adapters, to customers since 2002. Their reputation for success is due to their large inventory, quick order turnaround time and 12 years of delivering superior new commercial information technology equipment and products in the United States. The company products are RoHS compliant and environmentally-friendly and have a lifetime warranty on cables, adapters and non-electronic products.
SF Cable's mission was to provide high-end cables to its customers at the lowest prices, quickly and with exceptional customer service.
The product collection of SF Cable features more than 8,000 SKUs of computer cables, home theater systems, laptop accessories, and other networking solutions. SF Cable satisfies its consumers' unique needs with quality merchandise, competitive prices, and quick delivery services.
Contact Details
SF Cable, Inc.
28300 Industrial Boulevard Suite F
Hayward, CA 94545-4439
Toll-Free: 888-275-8755
Local: 510-264-9988
Fax: 510-264-9989