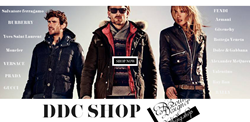 Get Fancy this Holiday Season with Charming Designer Sweaters at Reduced Prices
Montreal, Quebec (PRWEB) November 20, 2014
DiscountDesignerClothingShop.com receives over 35,000 visitors per day and offers over 2,000 models from over 20 of the best designer brand names out there. They also recently launched an "undercover loyalty program". Loyal customers are many times surprised to find out that discounts have been added to their order total. Discounts on top of discounted merchandise keep customers happy.
The Discount Shop is very specific with the styles and the models they offer. Brands vary from Dolce & Gabbana, Burberry, Gucci, Moncler, Armani, Versace, Mont Blanc, Yves Saint Laurent, Alexander McQueen and much more.
DiscounDesignerClothingshop.com is also now launching a new section on the website to be able to display what items are available for Express Delivery. Customers love this because they can now easily search these items without having to call customer service to view what is in stock and what isn't.
What's intriguing about the Discount Designer Clothing Shop is that they even try to offer those non-popular styles, which only sell once in a while. If you want to see a company that strives for customer satisfaction, Discount Designer Clothing Shop is that company. So chances are, if a customer finds themself looking for one of those impossible to find styles or models, this may be the fashion world's best-kept secret.
The Discount Designer Clothing Shop just recently listed this top hit Gucci Sweater Style that had customers coming back for more. Styles range from plain to flashy, so don't worry about finding something there. Also the New Moncler Jackets are a steal.
As winter starts to set in, the climate changes. Don't forget that after many have settled into the fall attire, everyone knows that an even colder time is ahead. For those who don't know what is being referred to here, skip this paragraph as the chances are, snow is not a common thing. Some light humor for the following winter season.
In closing, the place to be right now if you are a fashion connoisseur, only wear designer items, or just like to look nice with expensive wear, is on the newsletter mailing list for Discount Designer Clothing Shop to make sure customer's get the latest news on items. If there's a serious interest about fashion, stay up to date with the Discount Designer Clothing Shop and they will keep you in the know when it comes to your designer wear at the best prices. Also don't forget to check them out on Facebook or follow them on Twitter. Keep up with their blog, as it's a good place to find out about the end of the season blowout sales. If the size is available, then a great price is guaranteed.