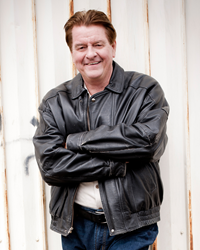 "Don Gavin is among the country's most skilled comics. A stand-up showstopper! Boisterous and wildly funny." – LA Times
San Rafael, CA (PRWEB) November 13, 2014
A New Year's Eve Comedy celebration made EASY & FUNNY.
The 5th Annual Stand-Up Comedy Celebration is a perfect show for New Year's Eve in Marin. Group tables allow folks to bring their Party to a great comedy show with nothing to clean up. The evening is timed so attendees can enjoy an early dinner at a favorite restaurant before the show and time to get somewhere else for the stroke of midnight if desired.
Co-Presented with The Other Cafe Comedy Showcase, The comedy show is headlined by legendary Boston comic DON GAVIN. Don has performed in 25 different countries, at over 150 clubs and theaters, and more than 200 corporate functions just in the past three years. He has starred in several of the world's most prominent comedy festivals, including Montreal, Melbourne, and Edinburgh.
"A sure fire hit! Wow!" – San Francisco Chronicle
"No one-absolutely no one does to an audience what this performer does. It was an hour of brilliance". Australia Network TV
Special guest and local favorite GEOFF BOLT has been described in the press as "quietly hysterical", "a comic genius" and "an inspiration" The evening's host, NATO GREEN was recently named as one of San Francisco's Best Comedians by the SF Weekly, Huffington Post, and CBS.
Also performing, CHRIS GARCIA, recently profiled as "A Comic's Comic" in Esquire Magazine and named as "One of the 7 Funniest People in San Francisco" by 7×7 Magazine and BRENDAN LYNCH: a mix of absurdist musings, wry observation, and spot-on off-the-cuff crowd work. Brendan was also last year's runner-up in The San Francisco International Comedy Competition.
Laugh away 2014 and for those that stay for the countdown party with the comics, a free glass of bubbly to toast in the New Year!
WHEN: Wednesday, December 31, 9pm. 2014.
8pm Pre-event No-Host Cocktails | Theater Doors Open
9:00 p.m. to 11:15 p.m. Comedy Showcase
11:15 p.m. to 12:45 a.m. After Party/Countdown with the Comics
TICKETS: Range from $34.50 to $59.50 http://www.theothercafe.com
Group Tables available. More Info: 415.785.8873
The Kanbar Center for the Performing Arts is the Performing Arts Department within the Osher Marin Jewish Community Center in San Rafael, California. For over 20 years we have spread the power of music, voice, humor, taste, culture, movement and words throughout the community by presenting classical music, club style dancing events, comedy, musical concerts, theater and performance in the grand Hoytt Theater, lectures. chats and demonstrations in the Kurland lounge and great world music & dancing for all ages outdoors under summer skies on Swig Field. All are welcome; no membership is required to attend. The Center is a long-standing Marin non- profit, centrally located in Marin County and just 1/4 mile east off Hwy 101