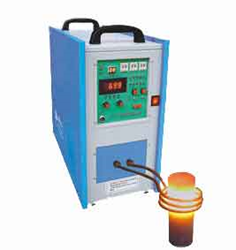 (PRWEB) November 12, 2014
DW-InductionHeating.com, a comprehensive high-tech business specializing in designing, researching and developing, producing and marketing of a series of machinery equipments, has recently announced its new design of induction melting furnace (Product Model: MF 15-160KW).
The company's sales manager says, "Our new model is suitable for melting cast steel, cast iron, stainless steel, copper, aluminum and other metals or alloy. We try to provide the customers with really enjoyable experience, and we promise to make every effort to create the best quality products for our global customers."
Some detailed information about the new melting furnace:

Better Heating penetration and even temperature inside the melting metal.
M.F field force can stir the melting pool to achieve better melting quality.
Melting the maximum quantity by the recommend machine according to above table the melting time is 30-50 minutes, the first melting when the furnace is cold, and it will take about 20-30minutes for the later melting when the furnace is already hot.
 Suitable for melting of steel, copper, bronze, gold, silver, aluminum, stannum, magnesium, stainless steel.
DW-InductionHeating.com products are famous for affordable price, easy operation and maintenance. The new model is no exception. Those who are interested in melting furnaces are encouraged to visit the company's one stop website.
DW-InductionHeating.com is an independent company based in Guangdong, China. Now, the company has become an outstanding supplier in the market. Its hot-selling products include induction heating equipment, magnetic grinding machines and more. All the products from DW-InductionHeating.com are of top quality, and they are available at low prices. Worldwide clients enjoy shopping on its user-friendly website.
About DW-InductionHeating.com
DW-InductionHeating.com is a well-known online supplier of useful induction heating machines. With an aim of help worldwide people get high quality items at the lowest possible prices, the company often provides huge price cuts for its machines. For DW-InductionHeating.com, customer satisfaction is always the most importantly issue. All its products are made with durable materials.
For more information about the company's latest products, customers can just visit: http://www.DW-InductionHeating.com.