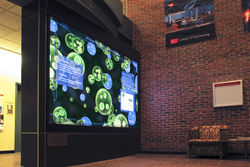 Prysm video walls exemplify forward-thinking and innovative technology.
San Jose, CA (PRWEB) November 12, 2014
Prysm, Inc., a privately held designer and manufacturer of video wall systems that deliver immersive and engaging user experiences, today announced the installation of a 10ft wide by 6ft high collaboration video wall solution in the lobby of Boston University College of Engineering. One of the nation's premier engineering institutions, the college educates the technology leaders of tomorrow and advances science and technology through research, discovery and innovation.
During its 50th anniversary celebration, the college unveiled its new collaboration video wall built on technology invented by Prysm co-founders and Boston University graduates Amit Jain ('85) and Roger Hajjar ('88). Their advanced Laser Phosphor Display (LPD) technology has revolutionized the world of large-scale displays and is the foundation for all Prysm video walls.
Prysm video walls combine the most advanced high-definition, low-energy, virtually seamless displays with touch-enabled interaction. Users can present, share, reposition, resize, annotate and edit all types of content through on-screen touch, laptops and mobile devices. Engineering students from around the world can pursue an interdisciplinary approach to their education and practice practical hands-on learning using the dynamic interactivity capabilities of the video wall system.
"Prysm video walls exemplify forward-thinking and innovative technology. It's a great fit for our open and engaging culture of higher learning," said Kenneth Lutchen, Dean of Engineering at Boston University. "The installation is remarkable and creates an immersive experience that supports the charter of the engineering school and advances the possibilities for learning."
"For universities, businesses and governments around the globe, Prysm video walls are the solution of choice, delivering an unrivalled level of engagement," said Amit Jain, president and chief executive officer of Prysm. "The collaboration capabilities of Prysm video walls set a new standard for improved learning, productivity and decision making."
About Prysm, Inc.
Prysm, Inc. is a privately held video wall designer and manufacturer headquartered in Silicon Valley, California. Prysm invented Laser Phosphor Display (LPD) technology that enables breathtakingly beautiful, scalable, and versatile video walls that deliver immersive and engaging user experiences. Prysm video wall systems are used by major brands worldwide including leaders in technology, retail, financial services, and media as well as by governments and universities. Prysm has a global sales and support network with offices in Boston, Chicago, Indianapolis, New York, San Jose, London, Bangalore, Dubai and Beijing. Learn more at prysm.com.