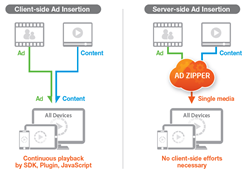 Seoul, Korea (PRWEB) November 13, 2014
Solbox (Taeha Park, CEO, http://www.solbox.com), a company specializing in CDN (Content Delivery Network) and cloud technology, today announced its server-side ad insertion solution, Solbox Ad Zipper, capable of easily and dynamically inserting ads into video content on any devices and format.
The traditional approach for delivering in-stream video ads requires dealing with client-side SDKs, plug-ins, and JavaScript by each device respectively. This results in hiring too many personnel and investing too many resources to overcome the technical difficulties for ad delivery and to handle ad blockers with temporary fixes and high costs. But publishers are faced with the loss of ad revenue due to the buffering issue, ad system's fragmentation, and use of ad blockers.
Ad Zipper was created by Solbox to overcome the limitations of traditional client-side ad insertion solutions. Keeping to its namesake, Ad Zipper seamlessly inserts ads and video content in real-time on the server side to stitch a single file or stream.
Ad Zipper eliminates data buffering between ads and video content as well as circumvention from ad blockers to provide a smooth TV-like viewing experience. Ads are easily delivered to new devices without the need for additional development, since they are inserted into video content on the server side without SDKs, plug-ins, or JavaScript that are traditionally required in client-side ad insertion solutions.
Notably, Ad Zipper supports HTTP Progressive Download and HLS (HTTP Live Streaming) for a smooth and reliable ad delivery service with the highest level of device compatibility. Targeted ads are easily inserted into the desired position with pre, mid, and post-roll formats for maximum viewer coverage.
Solbox anticipates a boost in the quality of viewer experience as well as advertising revenue for OVP (Online Video Platform), CDN, and video service operators through flexible, real-time advertising on all devices with Ad Zipper.
Taeha Park, CEO of Solbox, commented, "Advertising is the main source of revenue in the media industry, and it must be sustained in all emerging devices. Solbox has studied online content delivery extensively and now offers an evolved advertising services solution with guaranteed quality, convenience, and inter-device compatibility."
About Solbox
Solbox, a leading CDN and cloud software provider in Korea, offers an integrated software platform for telecom companies to implement large-scale CDN and cloud services. Solbox's platform contains core components including: inventory management, storage virtualization, load balancing, monitoring and content delivery applications. Solbox provides joint services with KT and LGU+, the two of big three telecom companies in Korea. More information can be found at http://www.solbox.com.