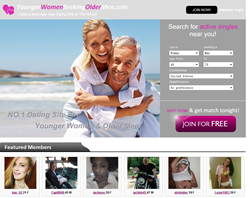 YoungerWomenSeekingOlderMen.com was regarded as the number one site in the 'age gap' dating segment. This website bags the top spot in terms of user satisfaction and usability.
New York (PRWEB) November 13, 2014
YoungerWomenSeekingOlderMen.com completed its thirteenth successful year in the online dating industry this October. This dating portal has been committed to serving younger women and older men, where they can find a perfect match.
Interacting with the local press at an event hosted by the website, a representative said, "We have always thrived on innovation and added new features in order to enhance the online dating experience. Over the years, we received great feedback from our customers that has enabled us to make requisite changes to the website's user interface as well as the available options. Our ever-increasing membership base is proof that we have been able to succeed in meeting our objectives and therefore satisfying our users."
YoungerWomenSeekingOlderMen.com has managed to stand out from the crowd in the highly competitive dating industry. In fact, this site has been ranked among the top dating platforms in this segment by several review portals. Besides, dating trends are also in favor of this paradigm shift. Experts believe that women now prefer dating older men to younger ones.
Diana, a New York-based dating expert who has also been counseling couples for over 10 years says, "While there is no doubt about the fact that love is essential in every relationship, financial stability plays a vital role too. It is difficult for a relationship to sustain when the couple isn't financially sound. As older men are financially sound and highly mature, they are the preferred choice among younger girls."
Latest trends also reveal that both men and women prefer marrying a little late compared to their ancestors. "People have become more career – oriented and choose to get into a relationship only when they are ready to take up additional responsibilities. It is this trait that has made older men more desirable," Diana added.
YoungerWomenSeekingOlderMen.com gives users a feature – packed platform where younger women and older men can connect with each other. Like most other dating sites, this one too has the email and instant messaging clients, basic and advanced search options, blog and forum sections, in addition to an extensive FAQ section and round the clock customer support.
YoungerWomenSeekingOlderMen.com has been lending seamless services to its customers for over 12 years. The site allows users to join this community for free and create a comprehensive profile, complete with pictures and other information. The website also allows users to upgrade to premium membership in order to access additional features.