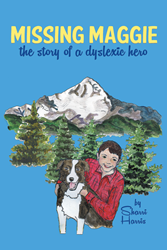 There is an urgent need for kids to realize that having a learning difference does not mean they are defective in any way.
FORNEY, TX (PRWEB) November 20, 2014
CrossBooks is pleased to announce the nationwide release of Missing Maggie: The Story of a Dyslexic Hero by Sharri Harris, a Texas teacher who works exclusively with students with dyslexia. In this inspirational children's novel, third grader Peter Lane struggles at school with his learning differences and feelings of inferiority. But in a search for his lost dog, Maggie, he finds no matter what one's talents or obstacles are, we can all be heroes for God.
When Peter forgets to close the backyard gate one day, his beloved pup disappears. Looking for Maggie along with his parents and faithful friend Sarah, they discover her in the possession of a grumpy shopkeeper, Mr. Weaver, who demands payment for the dog's return. The Lanes decide to abide by the Golden Rule, treating the man with love and respect, trusting that God will make a way for Maggie to come home.
"Each of us is a hero to God when we are obedient to His commands and honor Him in the way we live our lives," said Harris, whose husband and son both have dyslexia. "Peter and his family are going through a tough time and are less than perfect—there are no straight-A students or homecoming queens among them—but they always strive to honor God and obey Him."
Paul Mikos, publisher at CrossBooks for LifeWay Christian Resources, said, "No matter what obstacles a child may be facing, they will identify with Peter, the hero of Missing Maggie. And, each chapter begins with a scripture reference and teaches an important biblical concept."
"There is an urgent need for kids to realize that having a learning difference does not mean they are defective in any way," Harris added. "We're all created by God, and He knows everything about us. He doesn't look for a human definition of perfection—He looks for a heart that is bent toward Him and willing to obey."
Missing Maggie is available in softcover and eBook formats online at LifeWay.com and in stores via CrossBooks.
About the Author
Sharri Harris has taught elementary school for twenty-five years—the past eight focused solely on working with children with dyslexia. She holds a Master's degree in education from Walden University. Harris and her husband have two adult children, five furry friends, and live in Forney, Texas.
About CrossBooks
An imprint of B&H Publishing Group, CrossBooks offers a unique blend of traditional and self publishing. It serves a variety of Christian writers, from established authors to Christian leaders and first-time authors. As a ministry of LifeWay Christian Resources, CrossBooks is committed to unwavering principles of excellence and Christian faith. For additional information, please visit http://www.crossbooks.com.