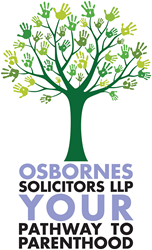 A must attend event for all people considering adoption, surrogacy or fertility treatment
London (PRWEB UK) 17 November 2014
Osbornes Solicitors, a law firm based in Camden, London, is organising the event 'Alternative Pathways to Parenthood'. Speaking at the event will be a panel of individuals who have chosen either Adoption, Surrogacy or Fertility treatment as their path to parenthood.
The event is being introduced by Lord Robert Winston, the pioneer of new treatments to improve IVF. Also speaking is Baroness Oona King whose own pathway to parenthood has been by both domestic adoption and surrogacy.
Other speakers include a couple who chose international surrogacy, a mother who travelled to Spain for successful donor conception and a same sex couple who have adopted three children.
This is a must attend event for all individuals or couples who are considering adoption, surrogacy and fertility treatment and who want the opportunity to hear and speak to those who will explain why they chose their particular pathway and what challenges they encountered along the way.
Expert solicitors from Osbornes, including the internationally recognised Naomi Angell, will also be providing legal commentary and guidance.
New speakers announced on the Osbornes website.
Interviews with panel members in advance of the event can be organised through Chris Aubeeluck.