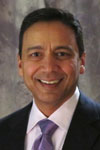 NSE's value proposition is compelling since it is vendor neutral, to facilitate IT project evaluation, selection and implementation on a global scale..
New York, NY (PRWEB) November 12, 2014
Dr. Surendra Saboo announced that he has joined Network Solution Experts (NSE) as their Chief Strategy Officer. NSE provides wide area network infrastructure consulting, sourcing and implementation services.
Previously, Dr. Saboo was the CEO of the Telecom Services Division of TNS, a leading global provider of data communications and interoperability solutions, based in Reston, VA. Prior to joining TNS, he was the President and Chief Operating Officer of Inteliquent, a leading provider of wholesale voice and data services, based in Chicago, IL. Prior to that, Dr. Saboo was the Vice President of Product Development and Operations for Voice Services at Comcast. He joined Comcast in June 2000, as Executive Vice President and Chief Operating Officer of Broadnet Europe, SPRL, a pan-European subsidiary of Comcast, based in Brussels. Prior to joining Comcast Corporation, Dr. Saboo was the Chairman, Chief Executive Officer and founder of Teledigm, an e-CRM software product company in Dallas, Texas. Prior to starting Teledigm, Dr. Saboo spent 14 years at AT&T in a variety of operating roles including research and development, engineering, product management, strategy, systems development and operations. He began his career with AT&T in 1986, as a Member of Technical Staff at Bell Laboratories in Holmdel, NJ. Dr. Saboo holds a B.S.M.E. degree from Birla Institute of Technology, India, and a M.S. and Ph.D. in Industrial and Systems Engineering from Ohio State University.
About Network Solution Experts
Network Solution Experts provides independent IT network sourcing and implementation services for companies worldwide, with an emphasis on MPLS and Ethernet Wide Area Network Infrastructure, WAN Optimization, Disaster Recovery, Wireless Access Infrastructure, DDos Mitigation, and Telecommunication services. For more information: http://networksolutionexperts.com.
Media contact: Steve Garson 212-203-7310 x150 media@networksolutionexperts.com