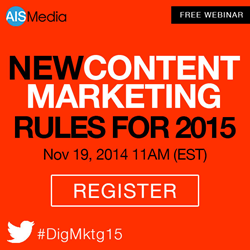 "Content marketing costs 62% less than traditional marketing & generates approximately 3X as many leads." (SOURCE: Kapost)
Atlanta, GA (PRWEB) November 13, 2014
In part 5 of the 6-part Digital Marketing Webinar Series, AIS Media Inc., will reveal the "must-know" content marketing tactics for success in 2015. As consumers become overrun with social media and a variety of content streams from organizations looking to tap their interests, content marketing is a must for organizations looking to successfully spread their message through the noise and generate leads. Join AIS Media Inc., Wednesday November 19, 2014 at 11:00 am (EST) and learn how to keep up in 2015 with content that resonates with your audience and will help drive more sales. The agenda includes:

Learn to write for your audience
Determine the right messaging and strategy
Work in key words gracefully to optimize clicks
Set a realistic publication schedule
Examine options for outsourcing
Track content to see what's performing
Expand your impact with curated content
And much more!
In this informative 30-minute webinar, you'll learn how to make the most of content, no matter how it's used in your organization.
Details and registration: http://newrulescontentmarketing.aismedia.com/
Sign up today and become an expert yourself through AIS Media's "New Digital Marketing Rules 2015" webinar series. Gain insights on unique digital challenges marketing professionals face, how to accelerate the customer journey and amplify the performance of digital lead generation programs.
About AIS Media
AIS Media, Inc. is an Atlanta-based award-winning strategic digital marketing agency. Founded in 1997, AIS Media has helped hundreds of clients amplify digital marketing performance including the world's top brands, companies and organizations. For more information visit http://www.aismedia.com