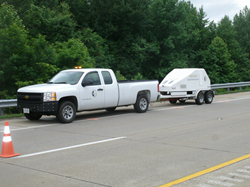 NDE solutions are performed in a fraction of time and cost, and with a high degree of reliability as much as 95 % or more
(PRWEB) November 12, 2014
Through innovative testing techniques, engineers from Resource International, Inc. (Rii) found that Non-Destructive pavement evaluation is more reliable, has a lower cost and is quicker then conventional methods of pavement evaluation.
Rii engineers reviewed two distinct methods of pavement evaluation of paved county roads for use in the oil and gas industry, the FWD approach and the ADCP approach. Investigations were conducted of two county roads in Harrison County, Ohio, which are being designed and rehabilitated as oil and gas haul roads, to discuss the high risk of premature road failures, the economic loss to the oil and gas industry, and the pros and cons of two distinct engineering solutions with recommendations to implement an innovative methodology to reduce such risks.
The paved and unpaved road networks in the eastern Ohio counties are in the midst of joining a national trend in transition from a purely local, low volume, community and recreational infrastructure, to serve modern industrial activities of oil and gas drilling. This trend is not only occurring in Ohio, but also in Pennsylvania, Wyoming, North and South Dakota, and many other northern states with industries pursuing oil and gas natural resources.
The conventional approach is a geotechnical coring and sampling method in which pavement condition is evaluated based on the results obtained from discrete test locations. The second method is an innovative, non-intrusive, non-destructive engineering (NDE) solution, for managing the evaluation, rehabilitation of the oil and gas haul road pavements.
Rii engineers compared the reliability and the estimate of error of the conventional approach, using the results of a discrete number of cores, profile data, soil material samples extracted from highly variable, poorly constructed paved county roads structures, with that of the innovative approach using Non Destructive methods.
In contrast with the conventional geotechnical approach, with significantly lower degree of reliability , and higher cost, the NDE solutions are performed in a fraction of time and cost, and with a high degree of reliability as much as 95 % or more; NDE solutions provide a continuous stream of valuable performance data on the entire pavement structure and its support condition.
The Norris Road and Moravian Trail Road GPR/FWD study was performed to show the benefits provided by these two innovative tools in evaluating pavement. Both methods are non-destructive and can be performed concurrently without the need for ground truth data. However, very limited coring is recommended in all GPR projects to aid in calibrating and validating results.
In addition to the GPR testing, Rii also conducted FWD tests along Norris Road and Moravian Trail Road to evaluate the structural condition of the roadway pavement sections and subgrade strength variations.
The FWD tests were performed to measure deflections under load simulating the moving traffic loads. The deflections were recorded by seven sensors located at fixed distances from the center of the load application.
Based on results of subgrade soil strength tests for Norris Road and Moravian Trail Road, Rii engineers found the FWD / non-destructive tests to be more accurate and timely than the conventional methods.
About Resource International, Inc.
Resource International, Inc. (Rii) is a broad-based, multi-disciplined professional engineering consulting firm specializing in construction management, information technology and planning and design of building and infrastructure projects valued in excess of $1 billion annually.
This family-run business has evolved over the years to assist public and private clients in finding optimum solutions to improve their environment and infrastructure. Our specialized equipment, technology and resources offer the best solutions.
Companywide, Rii has a vast pool of employees engaged in transportation planning, design, and construction services. Rii's Corporate Office is located in Columbus, Ohio, with full-service branch offices in Cleveland and Cincinnati, Ohio; Pittsburgh, Pennsylvania; and Indianapolis, Indiana.