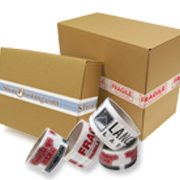 Companies are always looking to make a good first impression, and branded packing tape is one of the easiest ways to do just that.
Omaha, NE (PRWEB) November 13, 2014
Businesses many not think about it, but packing tape serves a variety of purposes in the office, ranging from tamper-proofing to branding. This is why Lancer Label, a high-quality printing company, offers customers branded packing tape that can be used any time it is needed!
Brand awareness is critical to the success of any business, as it establishes the firm as an entity instead of simply a provider of products and services. The more exposure companies can generate for their brands, the better they will be able to foster relationships with customers and turn them into regular patrons.
Custom Packing Tape Comes Home for the Holidays
For the 2014 holiday season, many people are hoping to dodge the winter cold and long lines at retailers by shopping online. This means companies will be sending packages to their customers by the dozen, providing the perfect opportunity to use branded packing tape to drive home the presentation. When customers arrive home and see a package with Amazon's trademark arrow logo, they know immediately from which merchant the order came. If companies want to achieve a similar effect and stand out from the sea of other bland cardboard boxes, colorful branded packing tape is the perfect way of doing so.
"Companies are always looking to make a good first impression, and branded packing tape is one of the easiest ways to do just that," said Fred Nelson, general sales manager at Lancer Label. "Branded packing tape can greatly improve brand recognition - people will not just see a package lying on their steps, but a package from their favorite company."
Of course, packing tape can also be used for other purposes as well, such as protecting against theft and tampering through one-of-a-kind tape seals. Firms could also use packing tape to identify fragile contents so handlers take special care. Of course, this branded tape can serve functionally just as well as standard packing tape, allowing senders to secure shipments and communicate any other necessary company information as well.
Regardless of any business' specific requirements for its packing tape, Lancer Label can produce an end product that fits its needs. Some of our packing tape product features include:

The choice between white or clear tape
Up to three spot colors
Two- and three-inch widths available
Packing tape rolls of 55 or 110-yard lengths
A finished three-inch core
Low minimum orders, allowing any company to get the packing tape they need
For those ready to order, Lancer Label is now offering 15% off custom printed tape orders now through 12/19/14. Use promo code TAPE15. Minimum quantity is one case and available as a full case only. This offer cannot be combined with other offers or promotions.
About Lancer Label:
With over 50 years of experience in the label industry, Lancer Label is dedicated to providing distributors quality label solutions from a supplier they can trust. Lancer Label offers the gold standard customer experience, quality products and versatile printing capabilities all at a great value. We make selling labels easy! For more information and to place orders online, visit LancerLabel.com. For the latest news and labeling promotional offers, find Lancer Label on Facebook, LinkedIn, Twitter and Google .