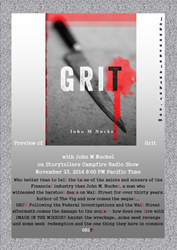 There is no honor among thieves, but there is for those who hunt them.
New York, NY (PRWEB) November 14, 2014
Sunday November 23rd. 8pm Pacific time. An exclusive interview will take place about Mr. Nuckel's second novel, GRIT. GRIT is the sequel to The Vig which received our own Marble Award nomination for adult fiction.
Carla Pugliese had to kill them; the two men who could identify her. Having left the bodies of the federal agents sent to apprehend her on a Colorado Mountain side, she takes a murderous cross-country journey to New York and the two men who are the keys to her freedom; Paul Pugliese and Frank McGinley. Paul, Carla's uncle and mafia kingpin played her from the beginning. Frank is the only man she set out to kill who lived to tell the tale.
Listen in at:http://www.blogtalkradio.com/storytellers-campfire
John Nuckel who along with The Vig and GRIT has a new novel Blind Trust. He is also contributing writer to businessinsider.com. He will share his opinions and experiences gathered over thirty three years in the financial industry. He learned a long time ago that the real stories of Wall Street are told on the barstools not in the boardroom.
In addition to being a fast paced thriller, GRIT takes a hard look at the inner workings of the hedge fund world before the market collapse of 2008. As a true Wall Street insider, John has access to some of the real players in the world of high risk finance. He didn't interview hedge fund traders, he got drunk with one after his firm dropped nine billion and wiped out their clients. John has sat behind Spike Lee at the Garden, thrown punches on the trading floor and ran like hell down Broadway when the south tower came down.
As a former hedge fund broker and partner in a risk arbitrage firm, Mr. Nuckel has known the saints and sinners on the street. They rarely cross paths but have one thing in common: GRIT.
Visit John at johnnuckelauthor.com