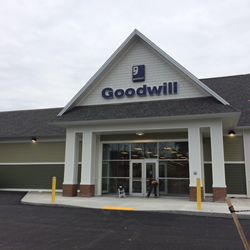 Somersworth, NH (PRWEB) November 13, 2014
The Grand Opening celebration of Goodwill NNE's new Somersworth store and donation center is scheduled for Saturday, November 15 at 9:00am. The new Somersworth store and donation center is located at 450 High Street.
Shoppers and employees will enjoy a new 15,000 square foot building that features a convenient donation drive up and several environmentally-friendly aspects, including an energy-efficient HVAC system, polished concrete floors (which eliminates the need for harsh chemical cleaners), LED lights and large windows to reduce electricity use. The new store will replace the current 13,000 square foot store in Dover, three miles from the new location.
The new store features a wide variety of donated goods – clothing, jewelry, books, household items and furniture, as well as a limited selection of new items to create a complete shopping experience.
The new store in Somersworth also features 100% Neighbor-Made products: craft and gift items manufactured in the northeast. This initiative helps regional entrepreneurs grow their businesses – and ultimately their workforce. For more information on 100% Neighbor-Made products, visit http://www.goodwillnne.org/neighbor-made.
Customers will also have the opportunity to learn about Goodwill's programs in New Hampshire that help people find jobs, lead more stable lives and nurture sustainable communities.
The new Somersworth Goodwill store and donation center will employ 52 full and part time staff members. Hours are Monday through Saturday, 9 am – 9 pm; Sunday from 9 am – 7pm.
# # #
About Goodwill
Goodwill Industries of Northern New England has a 10-year goal of being instrumental in moving 10,000 households out of poverty in our territory of Maine, New Hampshire and northern Vermont.
We not only create training opportunities and jobs within Goodwill, we work with local businesses to build their own workforce. As an employer of nearly 2,000 people, as well as a social service provider, we have a unique perspective that can help other employers find and keep reliable employees.
Recycled Cycles, a Goodwill NNE program in New Hampshire, is a partnership with the Central New Hampshire Bicycling Coalition to create job training opportunities repairing and maintaining bicycles. Program participants also benefit through individualized training and mentoring. Recycled Cycles is focused on increasing community awareness about the health, environmental and cost benefits to transportational cycling.
Our services are funded by revenue from retail and recycling operations, grants, fees, and philanthropic gifts. Please visit http://www.goodwillnne.org for more information.