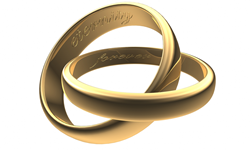 New York (PRWEB) November 19, 2014
Eternity Wedding Bands LLC, a manufacturer of custom diamond wedding bands and anniversary rings based in Syosset, NY, is offering customers free engraving this holiday season to add a personal touch and help make their purchase extra special. For a limited time, all rings purchased at EternityWeddingBands.com can now be engraved with a unique and individual message the customer desires at no additional charge.
Since 2003, Eternity Wedding Bands has been providing prospective brides and grooms with the all-important 'something new' for their special day. Offering a full line of diamond wedding bands and anniversary rings, the team at Eternity Wedding Bands understands the extremely special relevance these rings have. EWB is pleased to provide customers with an added special touch free of charge to further mark the occasion.
"Over the years we have worked closely with thousands of clients to create a unique expression of their love and commitment," says Claire Simon, President of Eternity Wedding Bands LLC. "When customers receive a diamond wedding band that is custom manufactured just for them, they receive a special piece of jewelry that is as unique as their love. This item is the most important symbol of a couples love and commitment for each other. By adding an engraved, personal message further raises this significance to an entirely new level."
Eternity Wedding Bands is not your typical jewelry store… they are also a manufacturer that custom manufactures each ring to the customer's exact requirements. Each ring is hand crafted based on the clients unique wants and needs. From the diamond cut, size and quality, to the metal and setting, the process is completely personalized to the client. With free engraving added to this symbolic piece of jewelry, customers can make the expression of their commitment an even greater gift.
"We understand and are honored at the role we are asked to play in this life changing moment for our clients. We do everything possible to make it the greatest moment of their lives, and are pleased to offer free engraving to contribute to this extra special occasion" added Simon.
Eternity Wedding Bands is a custom manufacturer and retailer of diamond wedding bands and diamond anniversary rings based in Syosset, New York and has been serving local as well as national clients for over 10 years. Offering custom designed wedding bands manufactured in 48 hours, a 30-day money back guarantee, a free appraisal and a life-time buy back option, they have risen as a leader in the industry. They can be found online at eternityweddingbands.com or reached on their toll-free line at (866) 508-1366.