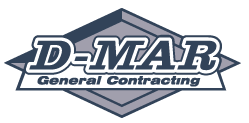 We implemented completely different branding for the Largo conversion than for any of the other Hess retail locations throughout Florida.
Clearwater, FL (PRWEB) November 12, 2014
D-Mar General Contracting and Development of Clearwater, Florida, recently completed the successful re-conversion of a Hess gas station that will serve as the model for a three-year rebrand project under Marathon's Speedway. Certified General Contractor Doreen DiPolito, owner and President of D-Mar, led the high-profile construction project and hopes that her accomplishment will serve as an inspiration for other women in construction.
"I'm proud that D-Mar General Contracting and Development was selected for this important conversion and rebranding project," said DiPolito. "As a certified Women's Business Enterprise, D-Mar competes within a heavily male-dominated industry. The fact that Hess entrusted us with this venture is not only a noteworthy achievement for our company, but it demonstrates the potential of women in construction and proves that we are capable of handling even the most challenging assignments."
The re-conversion of Hess Express #9448 at 11800 66th Street in Largo, Florida, was the latest in a number of construction and contracting jobs DiPolito and her team had completed for Hess since 1984. However, this endeavor was significant because it represented the final construction project initiated by CEO John B. Hess before he sold the company's chain of gas stations and convenience stores to Speedway LLC, a subsidiary of Marathon Petroleum Corp.
"We implemented completely different branding for the Largo conversion than for any of the other Hess retail locations throughout Florida," explained DiPolito. "John wanted to present our work to Speedway executives as an example of successful rebranding and envisioned that it would serve as a model for future conversions. Now that Speedway has completed its acquisition of Hess' retail operations, it will be undertaking a comprehensive, three-year rebranding project."
A representative for Hess U.S. commented, "Our key strategic business partners, [such as D-Mar General Contracting], make important contributions to our company, helping us achieve sustained financial performance and long-term profitable growth."
DiPolito views her success on the Largo re-conversion as a testament to capabilities of female business leaders and women in construction, and she hopes that it will lead to greater diversity within the construction and contracting industry. A recent report published by the U.S. Bureau of Labor Statistics revealed that while women currently make up 47% of the American workforce, females fill just 2.5% of all construction and extraction occupations. (1) However, this isn't the first time DiPolito has proven herself in a male-dominated industry. She previously worked in mechanical engineering – a field in which only 4.5% of employees are women. (2)
A graduate of St. Petersburg College, DiPolito began her career working on aircraft guidance systems at Honeywell. She was subsequently promoted through various levels of production before earning a position as work director and leading a team of 100 test systems engineers. While working at Honeywell, she spent evenings and weekends assisting her former in-laws with their general contracting business, D-Mar, starting in 1984.
In 2001, DiPolito's former mother-in-law, Mary Klinger, asked for her help in saving D-Mar after Klinger's sons drained the company reserves and left the family business floundering. DiPolito soon transitioned to working for D-Mar full-time, and eventually went on to earn her Certified General Contractor license. DiPolito is certified by the Women's Business Enterprise National Council (WBENC), Women and Minority Business Enterprise (WMBE), and the Office of Supplier Diversity (OSD). Between 2001 and 2008, she grew D-Mar by approximately 20% each year. Under her guidance, the business evolved from a maintenance and remodeling firm to a full-service general contracting and management company; and in 2006, D-Mar was honored with the Clearwater Business of the Year award by the Clearwater Regional Chamber of Commerce.
Today, DiPolito serves as the owner and president of D-Mar, overseeing both residential development and commercial building. "Our successful partnerships with such well-known franchises as Hess, Circle K, and Dunkin' Donuts have contributed to our reputation for efficient and cost-effective construction and general contracting services," she noted. "We have extensive experience in rebranding, permitting, and site construction, and we have the ability to do more than one conversion at a time. We are also typically able to keep our clients' sites open throughout the construction process to generate ongoing revenue and cost savings."
DiPolito is proud of the personal and professional accomplishments she has achieved with D-Mar – including the creation of numerous construction and ancillary jobs – and she remains committed to helping other women in construction realize their potential. Citing a recent report (3) that revealed Florida added more construction jobs than any other state between September 2013 and September 2014, DiPolito sees excellent opportunities for women who are interested in construction-related employment. She advises females to persevere in pursuing these high-wage, high-skill positions, and she encourages businesses to follow Hess' lead by awarding contracts and hiring candidates based on capability rather than gender.
To learn more about D-Mar General Contracting and Development and owner Doreen DiPolito, visit http://www.d-mar.com.
About D-Mar General Contracting and Development:
Founded in 1972 in Clearwater, Florida, D-Mar has evolved from a family-run general contracting business into a full-service construction and remodeling firm renowned for its efficient and cost-effective services. Under the leadership of owner and president Doreen DiPolito, the company has expanded its offerings to include commercial development, construction management, large-scale interior build-outs, and site development. D-Mar has completed successful projects for such well-known franchise brands as Hess, Dunkin' Donuts, and Circle K, and has attained certification as a Minority Business Enterprise and Women's Business Enterprise. In addition to her professional achievements as a Certified General Contractor and business owner, DiPolito gives back to the community by serving on the Clearwater City Council and on the boards of local cultural, civic, and charitable organizations. For more information, visit http://www.d-mar.com.
1. U.S. Bureau of Labor Statistics. "Table 11: Employed persons, by detailed occupation and gender, 2012 annual averages"; Women in the Labor Force: A Databook; May 2014; pages 33 and 40. bls.gov/cps/wlf-databook-2013.pdf.
2. Ibid, page 34.
3. "Construction Employment Up in 39 States"; Construction Equipment article; October 21, 2014; accessed November 10, 2014. constructionequipment.com/construction-employment-39-states-0.