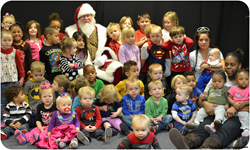 Our heartwarming partnership with Save the Children allows us to impact lives and share the heart of Santa with our country's neediest children.Judy Noerr, CEO, The Noerr Programs
Greenville, South Carolina (PRWEB) November 12, 2014
What: "Santa Cause" is arriving in South Carolina to read, learn and be merry. For the fifth year in a row, The Noerr Programs and Save the Children are teaming up to demonstrate Santa's heart by giving back to kids in need. This year, Haywood Mall's Santa has been chosen to make a surprise landing at Save the Children's early childhood and elementary school programs in Union, South Carolina. While there, Santa will share a holiday story with his young guests to demonstrate the importance of reading, and sing Christmas carols with each class.
Santa will also deliver Carter's pajamas, toothbrushes, toothpaste and books packed with care during Noerr's annual Santa University. These early Christmas gifts will be distributed to infants up to 3 years old, enrolled in Save the Children's Early Steps to School Success program in Union, as well as all the Pre-K and Kindergarten students at Monarch Elementary.
Additionally, Santa will distribute copies of Careful Santa! and Christmas Carol: Junior Novel for each elementary student at Monarch Elementary, generously donated by Scholastic Books. What's more, nearby Haywood Mall contributed plush holiday bears, activity pads and reindeer antlers to add holiday cheer; Snowman Truffles provided by Lindt USA will top off each gift bag with a sweet touch.
Who: Haywood Mall Santa will arrive at Monarch Elementary in Union, SC with:
Ruth Rosenquist, Director of PR and Cause Marketing, The Noerr Programs
Elizabeth Treble, Assoc. Dir. of Resource Development, Save the Children
Anna Hardway, Save the Children's program lead for South Carolina
Stacey Jacobs, Area Director of Marketing and Business Dev., Haywood Mall
Santa's Guests: 500+ children ages newborn-12
Where: Monarch Elementary
218 Monarch School Drive
Union, SC, 29379
When: Tuesday, November 18, 2014, 8:30 a.m. – 11 a.m.
8:30 - 9 a.m. Grades 4-5 (Reading, candy & book distribution)
9:10 - 9:40 a.m. Grades 2-3 (Reading, candy & book distribution)
9:50 - 10:20 a.m. ESSS & Pre-K (Reading, pajama distribution)
10:30 - 11 a.m. Grades K-1 (Reading, candy & book distribution)
Why: Save the Children and The Noerr Programs have teamed up for the fifth year of "The Santa Cause," a partnership that represents the act of giving back by emphasizing the importance of support for underserved children living in rural America. Since the partnership began, Noerr has collected more than $708,000 to benefit children in need throughout the country. This year, Noerr hopes to hit the $1 million mark in funds raised for Save the Children's U.S. programs.
Donations for Save the Children will be collected throughout the holiday season at The Santa Photo Experience at all Noerr Santa Photo Experiences, including Haywood Mall in Greenville, SC. For a complete list of locations, visit http://www.NoerrPrograms.com/Locations.
About The Noerr Programs
From headquarters in scenic Colorado, The Noerr Programs provides turn-key digital event imaging and marketing programs including The Santa Photo Experience for partners such as Simon Property Group and DreamWorks Animation. Celebrating 26 years in business, every Noerr cast member invests their heart, soul and experience into representing the spirit and essence of the season, building lasting connections with guests through Noerr's innovative retail, social media and altruistic platforms, including Simon.BeMerrySanta.com.where children can earn badges online from Santa by reading books. Visit NoerrPrograms.com and facebook.com/BeMerrySanta.
About Save the Children
Save the Children works to break the cycle of poverty and improve the lives of children by ensuring they have the resources they need. Save the Children's early childhood education, literacy, physical activity and nutrition, and emergency response programs reached more than 140,000 children and families in the United States last year alone. For more information, visit http://www.savethechildren.org/usa.
About Haywood Mall
Haywood Mall is the preeminent shopping center in South Carolina. Serving a six-county, upstate trade area, Haywood Mall is a two-level, enclosed, super-regional shopping center and is located off I-85, a main North-South interstate between Atlanta, GA and Charlotte, NC. Offering a spectacular shopping experience for discriminating consumers, Haywood Mall features five anchor stores: Sears, Belk, Dillard's, JCPenney and Macy's, and includes store such as The Apple Store, Sephora, Pottery Barn, Forever 21, Pandora, J. Crew, Williams-Sonoma and many others. For a map and store listings, as well as directions, events and job listings, visit http://www.simon.com or call 864-288-0512. Visit Haywood Mall on http://www.facebook.com/haywoodmall, twitter.com/HaywoodMall and instagram.com/haywoodmall.
-30-