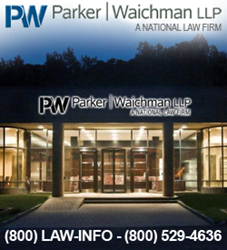 "We are not surprised that research continues to tie toxic metals with allegedly adverse physical reactions, including metallosis . . . said Gary Falkowitz, Managing Attorney at Parker Waichman
Port Washington, NY (PRWEB) November 12, 2014
National law firm, Parker Waichman LLP, continues to evaluate potential cases involving metallosis (metal poisoning) and other alleged injuries associated with metal-on-metal hip implant devices. Toxic metals are known endocrine disruptors that have been associated with cardio-metabolic diseases, according to a November 6, 2014 Seventh Space Interactive report, which noted that a recent prospective cohort study entitled, "Modeling the Epidemiologic Transition Study"( METS), sought to review the way in which metal exposure is distributed and its possible ties to cardiometabolic risk factors.
According to METS, toxic metal concentrations may be adding to increased risks for diabetes, obesity, and cardiovascular disease; have been identified as endocrine disruptors, which also makes them potential etiologic factors associated with diabetes; may result in abnormal glucose metabolism, which increases risks for developing diabetes; have been implicated in influencing estrogen receptor-mediated signaling; and may disrupt the glucocorticoid receptor, which regulates an array of biological processes, including insulin sensitivity. Experimental evidence also suggests that metals may induce insulin resistance and oxidative stress, which provides so-called "biological plausibility" to metals-induced diabetes, according to the research.
All-metal hips have been associated with high and premature failure rates and an array of alleged, adverse medical reactions, including increased blood metal ion levels and metal poisoning. Injury reports also allege dislocations; pain; fracture; difficulty ambulating, rising, standing, and balancing; noise emanating from the joint; and pseudotumors, to name just some, notes Parker Waichman LLP.
Metals have also been associated with hypertension, impaired kidney function, and peripheral arterial disease as well as all-cause and cardiovascular mortality, the research further indicated. Metabolic syndrome—a combination of various abnormalities, such as central obesity, dyslipidemia, hyperglycemia, and hypertension—is a precursor to diabetes and cardiovascular disease and has also been implicated with metals exposures in cross-sectional studies, the study also indicated.
The study authors concluded that the data "… are suggestive of potentially important associations between blood metals concentrations and cardiometabolic risk…. This is consistent with previously published cross-sectional studies examining these associations." The study authors added that, "These data are suggestive of potentially important associations between blood metals concentrations and cardiometabolic risk."
"We are not surprised that research continues to tie toxic metals with allegedly adverse physical reactions, including metallosis, and have seen this association with our clients who have been implanted—and in many cases, explanted—with all-metal hip devices," says Gary Falkowitz, Managing Attorney at Parker Waichman LLP.
Parker Waichman LLP has represented clients in several litigations related to metal-on-metal hip implants, including in multidistrict litigations (MDLs) and multicounty litigations (MCLs), such as:

In Re: DePuy Orthopaedics, Inc., ASR Hip Implant Products Liability Litigation (MDL No. 2197) in U.S. District Court, Northern District of Ohio
In re: Biomet M2a Magnum Hip Implants Products Liability Litigation (MDL No. 2391) in U.S. District Court for the Northern District of Indiana, South Bend Division.
In Re: Stryker Rejuvenate Hip Stem and ABG II Modular Hip Stem Litigation (MCL No. 296) in New Jersey's Superior Court of Bergen County.
Parker Waichman LLP continues to offer free legal consultations to victims of injuries allegedly caused by metal-on-metal hip implants. If you or a loved one have experienced premature failure of, or other health problems associated with, a metal-on-metal hip implant, please contact their office by visiting the firm's Defective Hip Implant page at yourlawyer.com. Free case evaluations are also available by calling 1-800-LAW-INFO (1-800-529-4636).