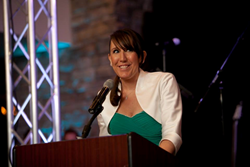 This is just so exciting. I can't thank Jet Blue enough for making this opportunity possible through their Flying It Forward program." Jill Pall
Phoenix, AZ (PRWEB) November 14, 2014
Ovarian cancer survivor Jill Pall has been awarded the Flying It Forward traveling JetBlue ticket passed along from the previous flyer, Astrel Clovis, who completed his goal of running the New York City marathon earlier this month. Jill will be traveling from New York to Long Beach, CA from November 14th -19th, 2014 to speak about her experience with various groups including students, teachers, athletes, oncologists, nurses, local businesses and women's organizations to promote early detection and ovarian cancer symptom awareness.
"I am humbled to have been selected to be part of this amazing social initiative where I will be taking an airline ticket guided by good karma and social good on its next journey to share my ovarian cancer story," say Pall. "By doing so, I hope to educate as many people as possible about the symptoms of this disease and the need for an early detection test."
Enabled by JetBlue Airways, Flying It Forward is a public manifestation of the airline's mission to inspire humanity, and is a social movement originally inspired by its crewmembers.
The idea is that a single JetBlue ticket travels on a continuous journey throughout the JetBlue network; passed along between people with impactful stories to tell, from those chosen by previous flyers. The program helps connect people with one another and enables people to fulfill a dream, a humanitarian effort or make a meaningful impact on the world. While on their trip, fliers will be able to document their experiences, which will be brought to life on Flying It Forward. The public can participate by submitting their own story or others' via Twitter, using #FlyingItForward.
Spreading the word about ovarian cancer is very important –and personal – to Pall, so she says being selected as the next Flying It Forward traveler presents an amazing opportunity for her.
"Eight years ago, my ovarian cancer symptoms were ignored by my gynecologist," says Pall. "Had I not sought additional medical attention, instead of taking over the counter pain medication and returning in a year as advised, I probably would not be alive."
Pall was able to beat the disease, and since that time she has committed to using her voice to fundraise for research, and to promote symptom awareness for a cancer that is often overlooked by doctors and women alike.
"It's so important for me to let women know that my story could be their story," she says.
One fundraising project Pall says she will be promoting on her Flying It Forward trip is Kicking For The Dream, a project started by NFL kicker Billy Cundiff. Kicking For The Dream encourages kicking specialists –both amateur and professional- to become involved in raising funds for ovarian cancer research. The money raised through Kicking For The Dream helps Colleen's Dream Foundation – an ovarian cancer project started by Cundiff and his wife Nicole- fund ovarian cancer research projects.
Pall, though not a professional (or amateur) "kicker," hails from New York; is the daughter of a die-hard Jets' fan; and last year she and Jets' punter Ryan Quigley raised enough money through Kicking For The Dream to help fund an early detection researcher at Memorial Sloan Kettering Cancer Center.
"Bonding with my father over football has been a bonus in all of this," says Pall. "He's the one who taught me how to kick a football last fall when I signed up for the program, and he's the one who gets a kick out of me yelling 'money' as Kicking For The Dream players do their thing on the field."
She says that while on her JetBlue Flying It Forward trip, she will, along with reaching out to a variety of organizations and individuals, also reach out specifically to coaches and kickers to introduce them to the Kicking For The Dream project.
"While on my trip I plan to meet with high school coaches in the Long Beach and San Diego area and introduce them to Kicking For The Dream," says Pall. "This is just so exciting. I can't thank JetBlue enough for making it possible through the Flying It Forward initiative."
Go here for more about Jill's Kicking For The Dream fundraising effort.
MEDIA CONTACTS
Mullen (on behalf of JetBlue)
Kara Feigenbaum
(617) 226-9351
kfeigenbaum(at)mullen.com