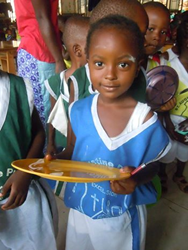 Raleigh, NC (PRWEB) November 13, 2014
Plates Neighborhood Kitchen is once again teaming up with Stop Hunger Now to make Thanksgiving hassle-free for people with a philanthropic spirit who don't want to cook on the holiday. This year's "Plates for the World," promotion includes a gourmet Thanksgiving dinner available as take-out or served at the restaurant located at 301 Glenwood Avenue in Raleigh, NC. Proceeds from the day's sales will be donated to Stop Hunger Now to support their mission to end world hunger.
"There is a logical partnership between Plates Kitchen and Stop Hunger Now," says Stephen Day, owner of Plates Neighborhood Kitchen owner. "One of the prevailing themes of our restaurant is providing a culinary journey that is globally inspired and locally produced, much like the ingredients for Stop Hunger Now meals that are locally sourced and packaged in the U.S. and then distributed around the world."
Stop Hunger Now is currently providing food and donated aid to partners in Sierra Leone and Liberia in response to the outbreak of the Ebola virus in West Africa. Stop Hunger Now U.S. and Stop Hunger Now Southern Africa have already shipped 2.5 million meals and more meals will be in route in the next few weeks. In addition to meals, Stop Hunger Now shipments have included other critical supplies and donated aid such as medical gloves, face masks and personal protection equipment.
Founded in 1998, Stop Hunger Now has delivered aid and disaster relief supplies in the form of food, medical supplies, clothing, school supplies, and more to thousands of disaster victims and other hungry and vulnerable people around the world. More than 450,000 volunteers have packaged the highly nutritious dehydrated meals comprised of rice, soy, vegetables, flavoring, and 23 essential vitamins and minerals during popular community-supported Stop Hunger Now meal packaging events.
The "Plates for the World" Thanksgiving prix fixe gourmet menu includes your choice of an appetizer, 2 meats with sides or a vegetarian entree and your choice of dessert for $39.00/person (tax & gratuity included). $30 from each meal will be donated to Stop Hunger Now.
Plates Neighborhood Kitchen will be open from 1 p.m. to 4 p.m. on November 27, 2014. Advance, pre-paid reservations for "Plates for the World" dining are required no later than Monday, November 24, 2014, via Opentable.com. Take-out orders are available by calling Plates at (919) 828-0018 no later than 5 p.m. on Monday, November 24, 2014.
In addition to the annual "Plates for the World" event, Plate's Neighborhood Kitchen has been a loyal and valued supporter of Stop Hunger Now's efforts with events such as the "Traveling Circus" this past June when Plates hosted five of Raleigh's top chefs who joined together to prepare a memorable, multi-course meal accompanied by live jazz and wine/beer pairings. Proceeds from this event were also donated to Stop Hunger Now.
For more information, visit http://www.plateskitchen.com
About Plates Neighborhood Kitchen
Over the last 20 years, Stephen and Kate Day have lived and traveled around the world and are often surprised and inspired by the food they have eaten along the way. Having learned new flavors and techniques to add to the outstanding food of the American South, the one constant theme they realized is how different foods from different cultures can unite people, regardless of nationality. Meals provide the opportunity to meet new people, share stories, provide new experiences and make connections in the community At Plates, you will enjoy favorite international dishes combined with regional southern flavors.
For more than 15 years, Stop Hunger Now has been creating a movement to end hunger with more than 140,000,000 meals distributed along with other aid to 65 countries. Driven by a mission to end hunger in our lifetime, the organization provides food and life-saving aid to the world's most vulnerable and helps mobilize the necessary resources impacting millions of lives.
Stop Hunger Now meal packaging programs offer volunteers the opportunity to participate in a hands-on international hunger relief program and to become educated, engaged advocates for the world's poor and hungry. In 2013, Stop Hunger Now packaged 38.6 million meals in the U.S. and an additional 3.3 million meals were packaged by international locations.
In its efforts to respond to emergency needs around the world Stop Hunger Now receives and distributes significant donations of in-kind aid. These donations are large quantities of food, medicines, medical supplies and other such items as may be of use in fighting hunger and providing relief in a crisis.