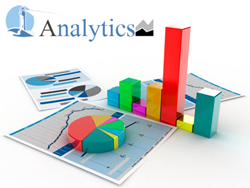 Imagine a platform that is capable of connecting to all of your internal/external databases, combining & organizing that data visually and then providing an easy to view set of graphs based upon that data. -Dan Allen, President, East Point Systems
East Hartford, CT (PRWEB) November 13, 2014
Helping companies make better-informed business decisions...faster. Analytics Dashboard reporting platform offers crucial business intelligence at a glance. East Point Systems is the leading field service software solutions provider for the default mortgage field service industry. The East Point Systems team has been developing business solutions for Fortune 500 companies and other businesses since 1996. East Point Systems is building on that success by creating Analytics Dashboard, an innovative new Business Intelligence reporting system. Analytics Dashboard now offers companies the ability to make time sensitive decisions that are based upon real-time business data. East Point Systems is setting a new industry standard by making Business Intelligence reporting more intelligent.
Dan Allen, President of East Point Systems, said: "One day in my previous life as an owner of a regional field service company, my processing manager raised a concern about the number of work orders being processed by a certain staff member when compared to her peers. I spent the next few hours sorting through all the work this individual was performing, and compared it to my senior staff's performance. The difference was alarming, so I brought the staff member into my office to discuss the situation. During the discussion, she explained to me how she was always getting the most difficult work orders to process, such as bids, while the other processors were getting the easier orders, such as grass cuts. I now knew it was an unfair assessment and I needed to revise how we were tracking and dispersing work assignments. If I had a business intelligence reporting tool like the new East Point Systems Analytics Dashboard to view that day, I would have quickly seen the disparate work assignments. This is just one instance of what the East Point Systems Analytics Dashboard platform can do for you. Imagine a platform that is capable of connecting to all of your internal/external databases, combining that data visually and then providing an easy to view set of graphs based upon that data. No other software provider in this industry has a product like the East Point Systems Analytics Dashboard."
Tom Margarido, CEO of East Point Systems, said: "Everyone knows that we all make the best decisions that we can, based upon the information we have available at decision time. The more information a decision maker has at decision time, the higher the probability that decision will be the right one. That's why the new East Point Systems Analytics Dashboard is unlike any other software platform that I have seen in the default mortgage field service industry. It's extremely flexible and has the ability to deliver Business Intelligence the way your company needs to view it. This product is not an add-on to an existing software system. This is a stand-alone platform that is capable of interfacing with any database or multiple databases in order to provide you with the analytics and Business Intelligence that your business requires. Today we are including several Dashboard graphs and reports along with our Field-Comm.net software as an introduction to this new technology. In future releases, any business with any number of databases will be able to benefit from this reporting powerhouse."
The new East Point Systems Analytics Dashboard platform takes raw business data and translates it into highly customized charts and graphs. It also provides a quick and easy drill down to the data behind the graphs, allowing for faster, easier and more accurate decisions. For East Point's Field-Comm.net software system users, standard reports are now incorporated with the Field-Comm.net software system. The standard reports include: Top 5 Clients, Accounts Receivable, Late Orders, Top 5 Vendors' Productivity, and more. The most exciting aspect of this offering is that custom reports and graphs can be tailored specifically for a particular company's needs. This new and exciting technology can help companies spot trends and identify problems before they spin out of control. Harness the power of business information now!
Please visit our website at http://www.eastpointsystems.com.
For More Information, Contact:
Dan Allen
President
East Point Systems
290 Roberts Street, Suite 205
East Hartford, CT 06108
860-761-0001
danallen(at)eastpointsystems(dot)com.