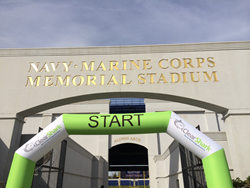 "We are a very family- and community-oriented company, and the opportunity to be involved in such a fun community event for the whole family was so exciting for us!"
Annapolis, MD (PRWEB) November 12, 2014
On Saturday, November 8th, over 200 children participated in the first annual ClearShark "Shark Sprint," which was the kids' run portion of the series of Chesapeake Bay Bridge Run weekend events. Energy was high on Saturday morning as the kids lined up by age group at the lime green and white inflatable starting arch, many dressed up like sharks, shark attacks, and other clever shark-themed outfits.
Each runner of the kids' race, which was one or two laps around the Navy-Marine Corps Memorial Stadium depending on the child's age, received a medal, a great dry-fit tee shirt, and the opportunity to "break the tape" at the finish line. As part of the fun, there was face painting, a moon bounce, and a shark costume contest. It was a great day for children and their families.
"We were so excited to sponsor the kids' race this year, and we are definitely looking forward to sponsoring this race in future years. We are a very family- and community-oriented company, and the opportunity to be involved in such a fun community event for the whole family was so exciting for us!" says Brittany Wilson, Marketing and Communications Manager at ClearShark.
A number of ClearShark folks also participated in the Chesapeake Bay Bridge Run's Across the Bay 10k on November 9th, which was a beautiful, well-organized 6.2 mile race over the Bay Bridge for nearly 15,000 runners.
ClearShark is an IT Solutions Provider and a 2014 Inc. 5000 company located in Hanover, MD. The ClearShark team consists of highly experienced, federally cleared sales professionals who provide their expertise to deliver the best IT solutions to their customers. ClearShark's technology partners include industry-leaders in storage, systems, network, and security. For more information, visit http://www.clearshark.com, or find us on Facebook or Twitter.