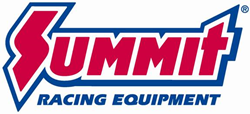 Tallmadge, OH (PRWEB) November 13, 2014
OEM Mechanic hand tools aren't cheap variety store tools—they're quality tools ideal for stocking a new mechanic's toolbox or replacing worn-out tools in a grizzled shop jockey's tool chest. And every OEM Mechanic hand tool is covered by a limited lifetime warranty, so they're up to any job in the shop.
Summit Racing carries a variety of OEM Mechanic tools including sockets and ratchets, pliers, wrench sets, C-clamp pliers, screwdrivers, and more—here are a few examples:
Posi-Grip Sockets
These Posi-Grip no-slip sockets have a special design that provides off-corner loading for greater torque. That gives you a fighting chance against stubborn or rusted fasteners. Their thin-wall design gets into tight spaces, and the drive end chamfer and four detents help to provide quick positive engagement on any of the socket drive walls. The knurling position is optimized for fingertip control, and engraved size markings won't wear off with extended use. The Posi-Grip sockets are available individually or in sets of SAE and metric sizes.
Locking Chain Pliers
When nothing else will remove that stubborn exhaust pipe or oddly-shaped suspension part, these OEM Mechanic locking chain pliers can do the job. The nickel chrome-plated pliers feature a precision-machined steel chain for precise gripping that conforms to any shape. The cutting edges are induction hardened to stay sharp and last longer.
Flexible Ratchets
These OEM Mechanic Tools flexible ratchets have a pivoting head that lets you get a socket to seat properly on a bolt head or nut. That's a big plus in cramped areas or to get around plumbing and other obstructions. The ratchets are made from nickel chrome plated steel and are available in 1/4, 3/8, and 1/2 inch drive versions.
Combination Wrench Sets
No self-respecting mechanic can work without a good set of combination wrenches. Each wrench is made with special alloy steel that is heat-treated for extra strength. They have no-slip design for better grip, a 15 degree offset head so you can flip them quickly for a new bite, and a long shaft to provide extra leverage. The size is marked on both sides and each end for easy identification. The wrenches are available in nine-piece SAE and 10-piece metric sets.
Summit Racing also offers OEM Specialty Tools for those specialized jobs—tools like spring compressors, brake caliper tools, pullers, snap ring pliers, brake fluid testers, and more.
See OEM Mechanic Hand Tools at Summit Racing
Summit Racing Equipment
http://www.SummitRacing.com
1-800-230-3030