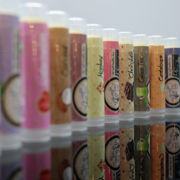 The winter is known for harsh elements - frigid temperatures, dry air, direct sun exposure and winds that whip around can all damage exposed skin and other parts of the body.
(PRWEB) November 19, 2014
Winter is coming and that means many people will be on the look out for products that will help them fight the cold. By promoting the benefits of health and beauty products via lip balm labels and other packaging components, brands can increase awareness of the products customers need to protect themselves. Lightning Labels, a custom label and sticker printing company, allows health and beauty brands to give their products the winter wonderland packaging makeover they need for the new season.
Chapped lips is something everybody experiences in their lives, particularly during the winter. People often use health and beauty products to remedy chapped lips, dry skin and other ailments caused by cold air. People may not always think of purchasing the right products before it is too late, but better product packaging may remind people the next time they are at the store that these goods can play a vital role in protecting them during the cold months of the year.
"The winter is known for harsh elements - frigid temperatures, dry air, direct sun exposure and winds that whip around can all damage exposed skin and other parts of the body," said Scott Proctor, Vice President of Sales at Lightning Labels. "While we would all love to stay inside and beat the wintry weather, that is not an option for most people. Fortunately, brands can help customers protect themselves from the freezing temperatures by updating product packaging to promote the proper use of health and beauty goods."
Matching Cosmetic Labels to Customers' Needs
Skin changes during the winter and it is crucial that cosmetic labels remind customers of this fact. For some people, their skin does not handle the cold as well - it becomes dry and itchy or perhaps even dulls in tone due to a number of factors, ranging from the retention of water to exposure to dry air.
This may result in some customers having different cosmetic needs in the winter. Maybe they wind up using cosmetics that hydrate the skin or perhaps they opt for a product that features skin-nurturing ingredients that help repair damaged tissue and skin. Regardless of each person's specific needs, the label is the best place to promote the benefits of a product - customers will not buy health and beauty goods if they do not understand products' characteristics and who they are designed for.
Custom Beauty Product Labels for Affordable Prices
Whether companies produce lip balm, makeup or anything else, custom beauty product labels designed specifically for the winter months are crucial for bolstering brand exposure. Fortunately, repackaging products does not need to cost a fortune and by working with an experienced custom label and sticker printing company, brands can fine-tune their labels for any occasion or season.
For those ready to place label orders, Lightning Labels is offering 15% off new label orders now through 11/25/14. Use promo code GOBBLE15. Maximum discount is $1000. Free ground shipping applies to orders placed online only and shipped within the United States & Canada. Enter code at checkout. This offer cannot be combined with any other offers or promotions.
About Lightning Labels:
Lightning Labels uses state-of-the-art printing technology to provide affordable, full-color custom labels and custom stickers of all shapes and sizes. From small orders for individuals, to the bulk needs of big businesses, Lightning Labels is equipped to handle and fulfill custom label and sticker projects of all types. Best of all, like the name implies, Lightning Labels provides a quick turnaround for every customers' labeling needs. Uses for Lightning Labels' custom product labels and custom stickers include food packaging and organic food labels, wine and beverage labels, bath and body labels, and nutraceutical products, such as vitamins, essentials oils, and herbal remedies, as well as event stickers, adhesive window stickers and more. Lightning Labels strongly supports the development of environmentally friendly printing materials and carries EarthFirst PLA, a new kind of green label material made from corn instead of petroleum. While operating as a high-tech printer, Lighting Labels prides itself on its personalized customer service. Lightning Labels provides one stop shopping for all of your custom label needs. For more information and to place orders online, visit LightningLabels.com. For the latest in packaging news and labeling promotional offers, find Lightning Labels on Twitter (@LightningLabels), Facebook, Pinterest, Google and LinkedIn.