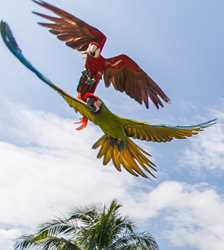 5 breeding pairs will be established in the vicinity of the Biosphere Reserve "El Triunfo", Chiapas
Cancun, Quintana Roo, Mexico. (PRWEB) November 13, 2014
The Nonprofit Organization Arroyo Negro and Grupo Experiencias Xcaret signed an agreement to promote the great green macaw breeding in the Biosphere "El Triunfo," where the species became extinct in the eighties due to habitat destruction, hunting and illegal wildlife trafficking.
The agreement was signed by Rodolfo Raigoza, Grupo Experiencias Xcaret Wildlife Manager and Efraín Orantes Abadía, representing the Nonprofit Organization Arroyo Negro, where the Environmental Management Unit "Peter Walter Grether" is located.
It is about the first breeding center of this species in Chiapas. It will start with five breeding pairs donated by Xcaret Park, where 23 years ago the scarlet macaw breeding program was established. Xcaret has also been very successful in breeding the great green macaw (Ara militaris).
The natural reserve of the Nonprofit Organization Arroyo Negro is located in the town of La Concordia, where 5 spaces will be built for the breeding pairs. The goal is that once the birds begin to reproduce, the offspring will start to be reintroduced to the jungle in this natural reserve.
An environmental education program must be established for schools in the communities nearby the Biosphere Reserve "El Triunfo," as well as in other towns close to the area in order to raise awareness about the importance of preserving not only the species but its habitat too.
Although the Nonprofit Organization Arroyo Negro and Experiencias Xcaret are private initiative instances, the project is open to the great efforts and involvement of schools, scientific research institutions and authorities in order to generate virtuous circles towards conservation.
We must emphasize that this breeding project is supported by the Secretariat of Environment and Natural Resources through the Environmental Management Unit, properly accredited before this authority (SEMARNAT- UMA- EX0085 - CHIS / 10).
To download high resolution pictures, please visit:
For Further Information:
Iliana Rodríguez
Chief Communications Officer
irodriguez(at)experienciasxcaret.com(dot)mx