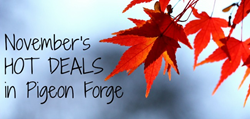 Our Hot Deals sheet lets you get the most bang for your buck in Pigeon Forge.
PIGEON FORGE, TN (PRWEB) November 13, 2014
PigeonForge.com, partner in planning a Smoky Mountain vacation, has revealed a new way to help travelers stretch their dollars in East Tennessee. The online vacation information source recently launched a new "Hot Deals" sheet – giving vacationers and locals alike a one-stop shop for exclusive discounts on cabins, hotels, attractions, things to do and much more.
PigeonForge.com owner Jessica Bookstaff Doppelt has cast a wide net with the monthly savings sheet, working with local partners gather to savings for things to do and places to stay both on the Parkway and off the beaten path.
"Our Hot Deals sheet lets you get the most bang for your buck in Pigeon Forge," Doppelt said. "We've come up with a way to offer our readers and subscribers access to discounts and coupons they won't find anywhere else. This means you can experience more of what the Smoky Mountains have to offer without breaking the bank."
The exclusive deals are announced monthly via PigeonForge.com's social media channels, weekly e-mail blasts and via the PigeonForge.com blog – giving visitors instant access to deep discounts on everything needed to enjoy time in the Smokies. Recent tips on the sheet include steep percentages off luxury cabin rentals, family-friendly condos, free attractions admission, discounts on theater tickets and much more.
"Not only is Pigeon Forge accessible, it's also affordable," Doppelt said. "Our Hot Deals are perfect for budget conscious travelers and anyone looking for a new way to enjoy the Great Smoky Mountains. You might find something new and magical to experience – and save some money while you're at it."
To start taking advantage of PigeonForge.com's Hot Deals sheet, click over to PigeonForge.com to receive weekly updates from East Tennessee via email. Look for "Hot Deals" each month to make the most of your time in the Great Smoky Mountains.
###
About PigeonForge.com:
Jessica Bookstaff Doppelt has helped thousands of people plan Smoky Mountain vacations since she launched PigeonForge.com in 2000. She grew up in Pigeon Forge and consider the Great Smoky Mountains her home. She is happy to share all the great things about the area and help you enjoy a perfect getaway through her website where you can easily browse lodging, attractions, restaurants, wedding information and more. For additional information, visit http://www.PigeonForge.com or follow PigeonForge.com on Facebook and Twitter.