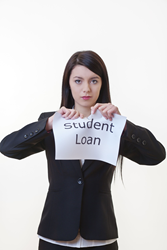 Long Beach, California (PRWEB) November 13, 2014
In the Real Estate Industry, we are always trying to explain why housing is slower than it should be, or why buyers are not entering the market, says Scott Schang, Branch Manager Broadview Mortgage Long Beach.
The biggest challenge with student loans is that they are deferred while attending school, all the time accruing interest, and postponing a lifetime of payments that are required to eliminate student debt, adds Schang.
The whole out of sight, out of mind idea works out perfectly as young students have visions of great paying jobs that can easily cover the cost of their education. And then reality kicks in.
Student loans are fully amortized loans, which means that they have the luxury of paying off the loan over 20, 25 or 30 years, paying mostly interest for the first half of the loan, adds Schang.
By the time the student is done paying off their loans, they've paid back approximately three times what was originally borrowed.
"As a direct lender, I often see young couples, and sometimes not so young, that are still strapped with student debt. Even getting a great job after college, the monthly payments on their loans reduce the qualifying income tremendously", says Schang.
In most cases, the payments on these student loans all but eliminate the ability of former students to buy the home of their dreams, or any reasonably priced house in today's market.
In all cases, a student can eliminate their student debt before shopping for a home, they will find that their home buying options are much greater, and their purchasing power will go much further.
For more information on ways to eliminate student debt please visit: http://www.findmywayhome.com/home-mortgage-news/are-student-loans-stopping-you-from-buying-a-home/