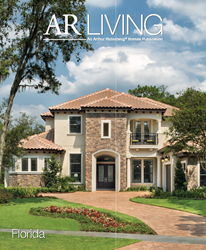 Custom home plans, articles on home building and stories from those who have built them.
Clearwater, FL (PRWEB) November 12, 2014
Arthur Rutenberg Homes published their new AR Living magazine.
This full color luxury magazine features the newest fully-furnished models now open in Florida.
The magazine has articles on custom home building and stories from those who have built their own homes.
Some of the new model home designs include the Modena, Carmel, Castellina, Ashville, Springdale and other homes ranging into the million-dollar plus range.
Arthur Rutenberg Homes builds homes in some of the top luxury communities in Florida and specializes in building custom luxury homes on customer lots throughout Florida.
Visit this Free Magazine Link to obtain a complimentary copy of the AR Living Magazine.
AR Living magazines can also be picked up in person at any of the Arthur Rutenberg Homes models. Model homes can be located using this link. The website provides hours for all models and further contact information.
Arthur Rutenberg Homes has been in business for over 60 years building luxury custom homes. They have been publishing the annual magazine for 20 years. They plan on continuing on offering the printed version as many readers have continued to express a strong interest in having the offline copy, but also offer an electronic version for tablets, computers and phones.